UMSL kicks off Month of Giving charitable campaign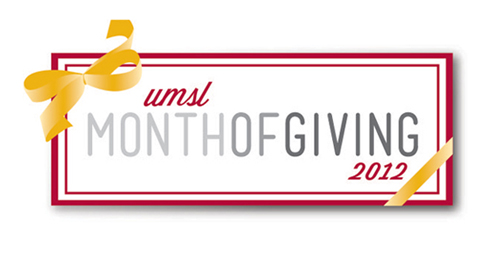 With a record-setting 2011 as its guidepost, the University of Missouri–St. Louis launched the annual UMSL Month of Giving on Oct. 1.
"The faculty and staff of the University of Missouri–St. Louis are among the most generous people I've ever met," Chancellor Thomas F. George said. "They give willingly of their time, talent and money to worthy causes and organizations, including the United Way and Community Health Charities. I want to encourage everyone to continue demonstrating their support of these and other important organizations in October, which has been designated the 'UMSL Month of Giving.'"
The campus community set a record last year, contributing more than $87,000 to support St. Louis-area charities. The United Way and Community Health Charities were the primary beneficiaries, experiencing a 30 percent increase in giving from UMSL sources.
"Those were tremendous results," George said. "But individually and collectively, I know that we can do even better in 2012."
The United Way and Community Health Charities are beneficial to the residents of the St. Louis region. United Way funds nearly 200 local health and human service agencies that help strengthen our community. Last year, more than 1 million people – 1 out of 3 people in the region – received help from a United Way supported agency.
Community Health Charities of Kansas and Missouri Inc. is a federation of 93 local and 53 national health agencies and is an affiliate of Community Health Charities of America in Washington. Community Health Charities of America works to improve the lives of people affected by a disability or chronic disease. Employee donations are used to support CHC member health charities that provide research, patient services and outreach programming in local communities.
UMSL faculty and staff will receive donation packets in early October with information about the United Way and Community Health Charities. Interested employees can start payroll deductions to support the agencies beginning in January.
Student organizations will ratchet up their participation in the UMSL Month of Giving with their own projects. The Office of Student Life will sponsor a Homecoming Blood Drive and Bone Marrow Donor Registration on Oct. 2 in the J.C. Penney Building/Conference Center. Students may either donate blood or canned goods to the project that benefits the Mississippi Valley Regional Blood Center, which serves the needs of the St. Louis area and the Midwest.
Patricia Zahn, director of the Des Lee Collaborative Vision and manager of community outreach and engagement at UMSL, is coordinating campus giving efforts. Contact her at 314-516-5267 or zahnp@umsl.edu for more information.
Short URL: http://blogs.umsl.edu/news/?p=29813
Posted by
Jack Crosby
on Oct 1 2012. Filed under
Campus
,
faculty
,
Staff
. You can follow any responses to this entry through the
RSS 2.0
. Both comments and pings are currently closed.