UMSL Events for June 28-July 4, 2013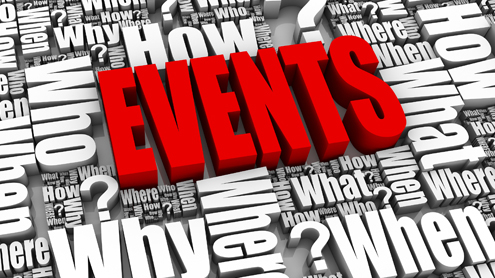 Note: UMSL Events contains information about events that will occur in the seven days following publication (Friday-Thursday). It contains information compiled from the UMSL Campus Calendar. No submissions are accepted, and since the calendar is self-populated, University Marketing and Communications is not responsible for the content that appears here or its accuracy. If you would like to receive UMSL Events via e-mail, you can subscribe to UMSL Daily or UMSL Daily Events.
Procurement's June Surplus Property Tag Sale
Date/Time: June 28, 2013 9:00 AM to 2:00 PM
Location: SCCB Garage, Lot YY
Audience: Open
Description: Procurement Services is hosting our monthly surplus tag sale. New items just arrived: Monitors, CPU's, keyboards, Laptops, Laptop cases, projectors, file cabinets, chairs, desks, copiers, printers, tables, $1.00 bric and brac sections and items too numerous to mention. This sale is open to everyone.
For Info: Tangie Brooks at 314-516-5361

UMSL FREE Electronic Recycling Day
Date/Time: June 29, 2013 10:00 AM to 2:00 PM
Location: UMSL South Campus-Music Building Parking Lot-SS (8001 Natural Bridge Road)
Audience: Open
Description: We will accept electronic equipment and small appliances (working or not) at no cost to the UMSL Community. All electronic and metal items will be accepted…if it plugs into a wall, runs off of batteries, we will accept it (and the batteries too).
For Info: Karen Pierre at 314-516-5823. Website: Click Here

BGSA Plant Sale
Date/Time: June 29, 2013 11:00 AM to 2:00 PM
Location: MSC Stage
Audience: Open
Description: The Biology Graduate Student Association will be hosting a plant sale fundraiser April 29 through May 2 in the MSC from 11 am – 2 pm. We have a multitude of herbs, tomato and pepper varieties, flowers, and house plants. Perfect for your garden or home!
For Info: Vanessica Jawahir at 954-695-7522
My First 5k!
Date/Time: June 30, 2013 8:00 AM to 12:00 PM
Location: Tower Grove Park
Audience: Open
Description: My First 5k! is geared for the first time runner and their supporters. All runners/walkers are welcome though. Cost to run is $35.00. For more details and registration go to myfirstevents.com Part of the proceeds go to Mercy Health Foundation.
For Info: Josh L at 314-210-5479
Arts and Culture in St. Louis Tour
Date/Time: June 30, 2013 2:00 PM to 3:00 PM
Location: St. Louis Mercantile Library
Audience: Open
Description: The Mercantile Library at UMSL will host a docent-led tour, focusing on a specific aspect of St. Louis or Missouri history. Weekend tours provide an opportunity for discussions on topics ranging from the founding of St. Louis, to the Mercantile's art collections.
For Info: Valenda Curtis at 314-516-7248
Weight Watchers at Work
Date/Time: July 2, 2013 11:30 AM to 12:30 AM
Location: 225 MSC, Conference Room
Audience: Open
Description: Come join Weight Watchers at Work on-campus any Tuesday. A group of faculty and staff meet with a Weight Watchers facilitator on a weekly basis. To initiate the process, follow these instructions: Go to https://wellness.weightwatchers.com Enter Company ID: 46814 Enter Company Passcode: WW46814 Register as a new member GENERAL INFORMATION: Meeting Times are Tuesdays 11:30am-12:30pm in 225 MSC $39.95/month Includes free access to E-Tools, an on-line resource to help with your success Questions or interest in the program? Contact Teresa Balestreri (ext. 5002; tkb@umsl.edu)
For Info: Teresa Balestreri at 5002
Web Address: Click Here
Short URL: http://blogs.umsl.edu/news/?p=38795
Posted by
Myra Lopez
on Jun 27 2013. Filed under
Events
. You can follow any responses to this entry through the
RSS 2.0
. Both comments and pings are currently closed.