Each year the Chancellor awards $1,000 each to three outstanding UMSL staff members for the Chancellor's Excellence Awards. These awards are intended to recognize their contributions to the University. One recipient comes from each of the three staff categories:
• administrative/professional
• office/technical
• service/maintenance
A committee, appointed by the Chancellor, reviews nominations and recommends one individual from each category to receive an award. All staff members, except those who have won the award in the past three years, are eligible for nomination.
Complete and submit the online nomination form by August 6, 2021. Recipient's will be announced at the Chancellor's State of the University Address.
CRITERIA FOR NOMINATION AND SELECTION
Please nominate employees who consistently demonstrate professionalism and reflect our core values:
Trust/Integrity – Respectful interactions, serving others, building goodwill, transparency, and accountability.
Inclusion- Intentionally creates an inclusive, equitable community.
Innovation- Drives change for the purpose of the greater good.
Access- Keeps our campus accessible and removes barriers for individuals that makes the environment better for all of us.
Success- Inspires and empowers others to reach their goals, break through barriers and achieve their goals.
Engagement- Open minded, inviting and solution-oriented. Forges collaborative partnerships on campus and in the community.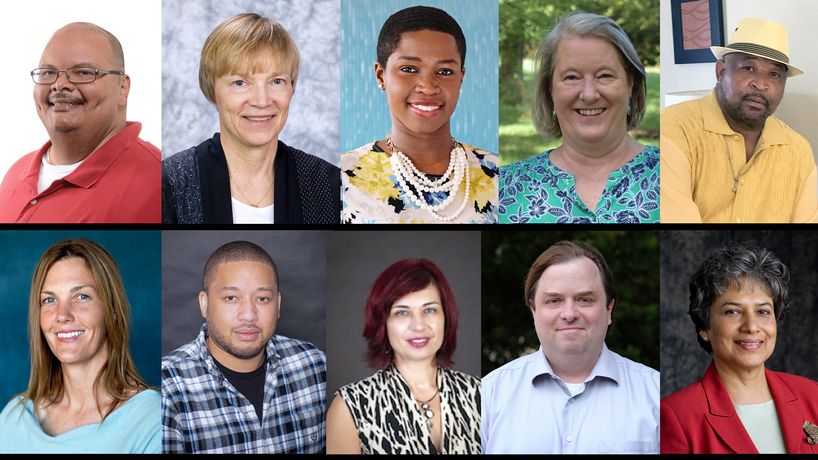 Recipients of the 2020 Chancellor's Awards are (top row, from left) Harry Harris, Pamela S. Stuerke, Mary Edwin, DeAnn J. Yount, Dale W. Huston, (bottom row, from left) Beth Huebner, Kristopher East, Alina Slapac and Mark Hauschild. Uma Segal received the University of Missouri System President's Award for Cross Cultural Engagement. (Collage by August Jennewein).
The deadline to nominate an outstanding Staff member for the Chancellor's Excellence Award is Friday, August 6th!
If you need assistance, please contact Human Resources at umslhr@umsl.edu.