NY Times calls professor's book 'remarkable'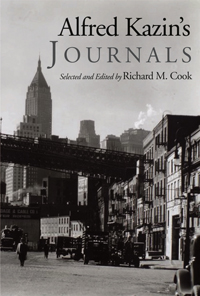 For many authors, a favorable book review from The New York Times is a career highlight. Richard Cook, professor and chair of the Department of English at the University of Missouri–St. Louis, received the second such review last month for his latest book, "Alfred Kazin's Journals," which is published by Yale University Press. The Times called it a "remarkable book, easily one of the great diaries and moral documents of the past American century."
As biographer of Kazin, a highly acclaimed 20th century critic of American literature, Cook spent a number of years researching and writing "Alfred Kazin: A Biography," which also is published by Yale University Press. Drawing on Kazin's published work of 14 books, more than 1,000 reviews and essays, extensive correspondence as well as interviews, the biography, according to Cook, would not have been written without the journals.
The biography elicited more than 60 reviews and was listed by both the Washington Post and San Francisco Chronicle as a Best Book of 2008.
"The New York Times review is a nice thing to have, but receiving a Guggenheim Fellowship was the real surprise. I hadn't expected it," said the soft-spoken Cook. "The biography and the resulting Guggenheim freed up my time and enabled me to do the research for this book."
Guggenheim Fellowships, one of the most prestigious awarded in the humanities, are intended for scholars "who have already demonstrated exceptional capacity for productive scholarship or exceptional creative ability in the arts." Approximately 220 are given each year out of 4,000 applications. Cook's 2009 Guggenheim was the only one awarded to a faculty member in the University of Missouri System.
With Guggenheim in hand, Cook continued his work on one of the most fascinating writers in an era of fascinating writers.
Born in Brooklyn, N.Y. in 1915, Kazin was the son of Jewish immigrants. He became the most prominent member of a group of New York intellectuals whose influence extended nearly seven decades. The Times review says Kazin's passions for sex, novels, ideas, talk and city life "spill" from the book covering his life from 1933 to 1998, a few months before his death.
Cook takes issue with the Times review, "A Lifetime of Anxiety and Lust." He acknowledges that there was a good deal of both in Kazin's life but insists that he was "a serious thinker. I wanted to make sure that came across in the entries I selected. But, of course 'lust' makes a better headline."
The Times review calculates the book covers about one-sixth of the journals' contents. At 598 pages and nearly 3 pounds in weight, Cook said the book contains "much of [Kazin's] best writing" but he doesn't see a volume two in the near future.
Cook is working on a study of the literature of confession, penance, and self-justification during the Cold War.
More information:
umsl.edu/divisions/artscience/english/faculty/cookr.html
nyti.ms/iAaLks
yalepress.yale.edu/book.asp?isbn=9780300142037

Short URL: https://blogs.umsl.edu/news/?p=9152