Anthropologist co-edits book that explores different forms of Japanese etiquette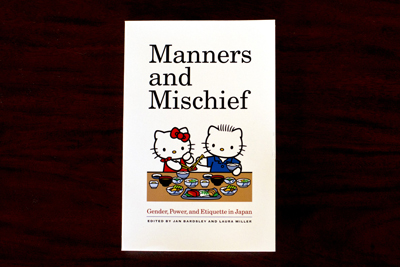 University of Missouri–St. Louis anthropologist Laura Miller co-edited the book "Manners and Mischief: Gender, Power and Etiquette in Japan."
Despite its title, this is not a traditional book of etiquette,  said Miller, the Eiichi Shibusawa-Seigo Arai Professor of Japanese Studies at UMSL. Instead, it contains 11 accessibly written essays on topics such as geisha parties, executive grooming, manners for subway travel and what constitutes "cool" at a gay bar.
Miller, an expert in Japanese culture and linguistic anthropology, said the book explores forms of etiquette for different groups in Japan.
"It also looks at shifting norms of manners and how that reflects cultural change," she said.
"Manners and Mischief" takes a look at advice literature and etiquette guides from the past to the present that reveal a lot about gender and class differences, notions of national identity, the dynamics of subversion and conformity and more, according to the publisher.
Miller said shared forums such as magazines, posters and websites reflect and guide current etiquette trends for various social and socio-economic groups.
"For example, advice is different for males and females," Miller said. "Or some people are upset by some things – like a woman putting on makeup on a train – but not others – like a man viewing pornography in public."
The book, published by the University of California Press, takes a witty look at how manners give meaning to everyday life and extraordinary occasions, and how they can illuminate larger social and cultural transformations.
According to The Japan Times, which recently reviewed the book, "don't let the cutesy Hello Kitty cover fool you. 'Manners and Mischief' disdains frivolity and stands firm as an academic text for students serious about extending their anthropological knowledge of Japan." Visit japantimes.co.jp/cgi-bin/fb20110710a2.html to read the entire review.
"Manners and Mischief" is available on Amazon.com and Google Books. In correlation with the release of the book, Miller will present "Behavior which offends: Comics and other images of incivility" from 4 to 5:30 p.m. Sept. 7 in 331 Social Sciences & Business Building at UMSL. The lecture is free and open to the public, and sponsored by the Center for International Studies at UMSL.
More information:
umsl.edu/divisions/artscience/anthro/faculty/miller.html


Short URL: https://blogs.umsl.edu/news/?p=10484