50th Jubilee kicks off with bit of nostalgia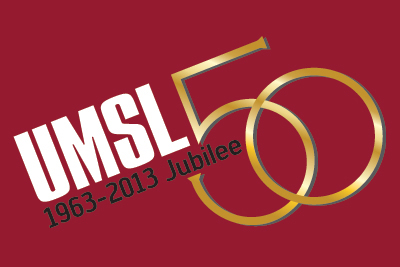 A video peek at the past seemed to energize the crowd Wednesday (Sept. 21) at the annual State of the University Address at the University of Missouri–St. Louis And when they spilled out into the lobby for refreshments, the university's upcoming 50th anniversary triggered lots of questions and ideas on how to celebrate.
The video, "From Golf Balls to Hallowed Halls," kicked off the official UMSL 50th Anniversary Jubilee planning phase. A year-long celebration to commemorate UMSL's founding in 1963 will run from January to December 2013.
"And planning for the biggest event in UMSL's history starts today," said Ron Gossen, senior associate vice chancellor of marketing and communications and co-chair of the Jubilee Steering Committee. "It's time to begin planning events and activities to assure that all that the university has accomplished, in so many ways, for so many people is recognized in order to be a springboard for the future. We need everyone's involvement, and in return you'll get the satisfaction of making a meaningful contribution to the biggest thing happening to UMSL in our lifetimes."
Gossen presented an organizing plan and timeline that calls for two major committees. An internal organizing committee made up of representatives of colleges and schools, centers, units, organizations and individuals – faculty, staff and students. A Jubilee Council will be made up of external constituencies including the Alumni Association, alumni, external advisory councils and civic leadership. The planning cycle will run from December 2011 to December 2012.
Individuals interested in being on one of the planning committees should sign up to volunteer by Oct. 3. Legions of volunteers also will be needed for events during 2013. Sign up to volunteer by visiting the Jubilee website.
Gossen also encouraged the crowd to come up with their own ways to celebrate the university's 50th anniversary. Email comments and ideas to the Jubilee Steering Committee.
More information:
jubilee@umsl.edu

Short URL: https://blogs.umsl.edu/news/?p=12685