Eye on UMSL: 'Call Me Maybe'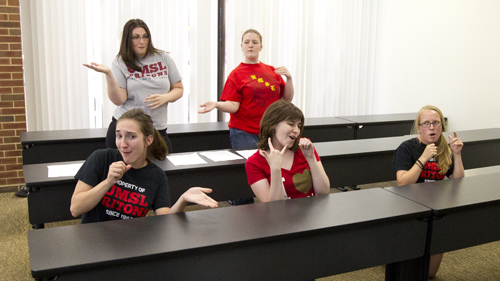 With recreations of Carly Rae Jepsen's "Call Me Maybe" video popping up all over the Internet, a group of University of Missouri–St. Louis students decided to create their own tribute to the sugary summer hit.
Kristen Williams (from left, front row), Katherine Green and Priscilla Steimel; and Amanda Millstone (left, back row) and Erin Potts are among UMSL's lip-synching students. Not pictured but also appearing in the video are: Marissa Steimel, Derrick Curtis and Charles McDonald.
The picture, by campus photographer August Jennewein, is the latest to be featured at Eye on UMSL. Click here or below to watch a video by Alicia Hottle of the UMSL students' cover of "Call Me Maybe."

Short URL: https://blogs.umsl.edu/news/?p=26297