Eye on UMSL: Computer part art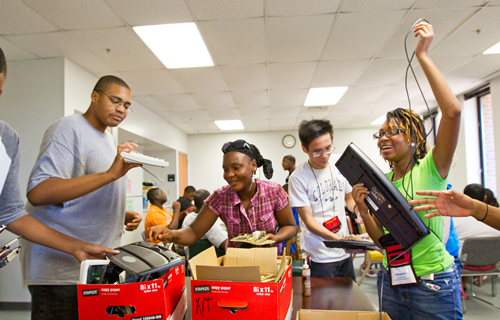 Xtreme IT! participants (from left) Cameron Caves, Manyongbe Kamara, Thinh Nguyen and Amani Coleman dig through boxes of old computer parts while looking for pieces to be used in an art project. Vicki Sauter, professor of information systems at UMSL and co-founder of Xtreme IT!, said the goal of the art project was to show the reusability of the computer and its parts.
"(The participants) were to become familiar with what is inside a computer and to use their imagination to create something unique and possibly beautiful from those parts," she said.
Xtreme IT! is a precollegiate program that ran June 24-29 at UMSL. High school participants live in UMSL residence halls for a week while attending workshops and visiting local businesses to learn about information technology. The students conclude the camp with a presentation of Web pages they developed based on the techniques and skills they learned during their week at UMSL.
The picture, by campus photographer August Jennewein, is the latest to be featured at Eye on UMSL.

Short URL: https://blogs.umsl.edu/news/?p=26711