Eye on UMSL: Barnett Memorial Plaza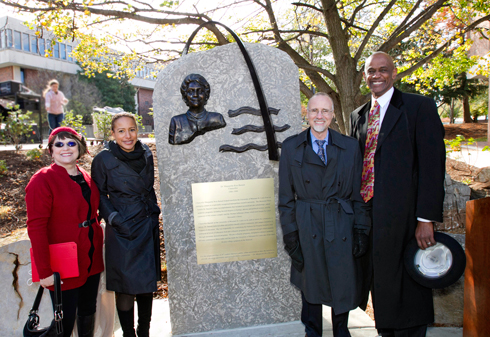 St. Louis-area community leaders joined University of Missouri–St. Louis alumni, students, faculty and staff on Oct. 26 at the dedication of the Marguerite Ross Barnett Memorial Plaza on the university's North Campus. Barnett served as UMSL's chancellor from 1986 to 1990. She was the first African American to lead the university and the first woman to lead the university.
The photo: (from left) St. Louis-area sculptor Vicki D. Reid, Amy DuBois Barnett, editor in chief of Ebony magazine, UMSL Chancellor Tom George and Hubert Hoosman, president and chief executive officer of Vantage Credit Union, stand alongside a granite pedestal bearing Ross Barnett's likeness. Reid sculpted the likeness. DuBois Barnett is Ross Barnett's daughter, and Hoosman led the committee that helped raise nearly $200,000 to construct the plaza.
The granite and limestone plaza, with its 12-foot-high columns, is adjacent to Express Scripts Hall.
The photograph was taken by UMSL photographer August Jennewein and is the latest to be featured in Eye on UMSL.

Short URL: https://blogs.umsl.edu/news/?p=31357