Eye on UMSL: Philosophy Salon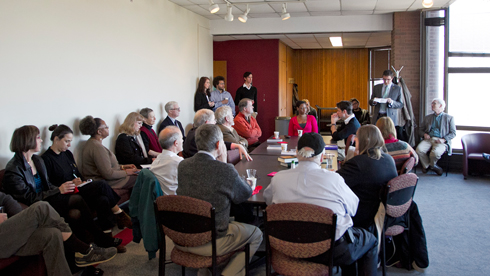 Gualtiero Piccinini (far right, standing), associate professor and chair of the Department of Philosophy at the University of Missouri–St. Louis, makes opening remarks Nov. 28 at the Philosophy Salon in the Social Sciences & Business Building Tower. About 50 invited guests listened as Piccinini highlighted the department's recent accomplishments. He noted that faculty work continues to be published by the best philosophy journals, as well as science journals.
"Each of us has recently published a book or has a book in progress or under contract with a major academic press," Piccinini said.
The department has redesigned the philosophy major. Changes include the introduction of six degree track options that help students pursue specific interests within the major. The track options are: pre-law, science studies, history of philosophy, ethics and society, health sciences and psychology and neuroscience.
The photograph was taken by UMSL photographer August Jennewein and is the latest to be featured in Eye on UMSL.

Short URL: https://blogs.umsl.edu/news/?p=32498