Russian, UMSL musicians to collaborate for Touhill concert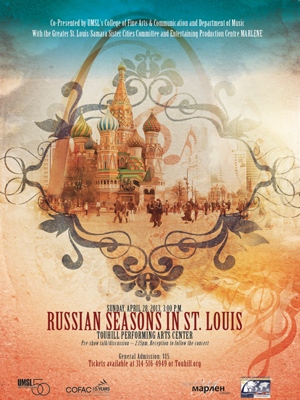 Last October, the Russian city of Samara played host to a group of University of Missouri–St. Louis piano students. This month, UMSL will return the favor.
Musicians from Samara, in their first visit to St. Louis, and UMSL piano students, will collaborate during a performance at 3 p.m. April 28 in the E. Desmond and Mary Ann Lee Theater in the Blanche M. Touhill Performing Arts Center.
"Russian Seasons in St. Louis" is free to all students with valid ID. Tickets for nonstudents will cost $15. There will be a pre-show discussion at 2:15 p.m. and a reception following the performance.
University piano students will perform Russian piano music. Alla Voskoboynikova, teaching associate professor of music and director of keyboard studies at UMSL, will perform a duet with Irina Sigal, an acclaimed soprano from Samara. Dmitri Kosiakov will play the balalaika, a Russian folk stringed musical instrument.
The performance is sponsored by the College of Fine Arts and Communication and Department of Music at UMSL, as well as the Greater St. Louis-Samara Sister Cities Committee.
In October, Voskoboynikova, along with four of her piano students and James Richards, interim dean of the College of Fine Arts and Communication at UMSL, undertook a whirlwind trip to Russia that included performances, lectures and, of course, sightseeing. While in Russia the group visited the cities of Samara, Moscow and Voronezh.
St. Louis is the official sister city of Samara, with the relationship being formalized in 1992.
Click here or below to see the group of UMSL music students on Russian television. The video, shot in Samara, Russia, opens with senior Daniel Dickson performing on the piano.

Short URL: https://blogs.umsl.edu/news/?p=36046