A brew for the U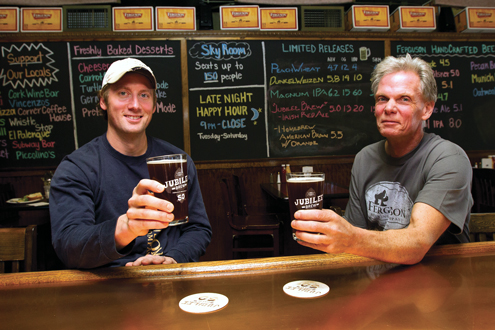 At 50 years old, the University of Missouri–St. Louis has cemented its status as a significant part of St. Louis history.
In a nod to UMSL's half century of scholarship and community building, Ferguson Brewing Company created Jubilee Brew, a special release Irish red ale. Ferguson Brewmaster Josh Wilson (pictured left with brewery owner Joe Lonero) selected the style based on red being UMSL's official color and the ale's accessible flavor profile. Wilson describes the beer as having a subtle hop presence that takes a back seat to caramel and biscuit flavors.
Want to try the beer? Jubilee Brew will remain on tap throughout 2013 at Ferguson Brewing, located just down the road from UMSL at 418 S. Florissant Road in Ferguson, Mo. Visit fergusonbrewing.com for more information.

This story was originally published in the spring 2013 issue of UMSL Magazine.

Short URL: https://blogs.umsl.edu/news/?p=36343