Eye on UMSL: Ain't Misbehavin'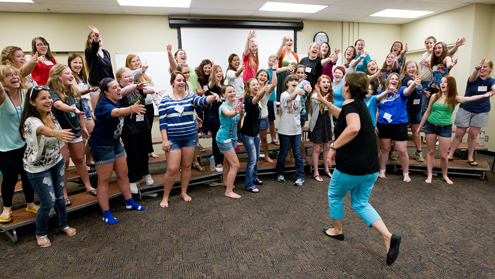 World renowned coach and educator Debbie Cleveland leads the Acappellooza Summer Camp women's chorus into the finale of the jazz standard "Ain't Misbehavin'."  The rehearsal was held in the J.C. Penney Building and Conference Center. The four-day camp culminated with a one-of-a-kind evening of a cappella Friday July 19 at the Blanche M. Touhill Performing Arts Center at UMSL. The music camp, for students in grades 9–12, was directed by Jim Henry, director of choral studies at UMSL and the internationally famous Ambassadors of Harmony. Campers spent the week learning from some of the world's most prominent names in a cappella music.
The photograph was taken by UMSL photographer August Jennewein and is the latest to be featured in Eye on UMSL.

Short URL: https://blogs.umsl.edu/news/?p=39476