Earn college credit fast with UMSL's Winter Intersession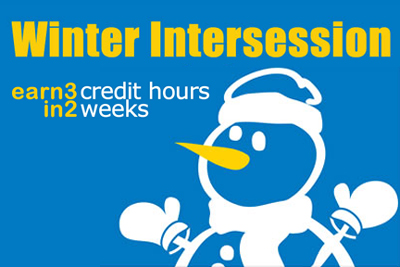 The 2014 Winter Intersession at the University of Missouri–St. Louis will take place Jan. 6-18, offering students the opportunity to earn three credit hours in two weeks to help them reach their educational goals faster.
"UMSL encounters students on a daily basis that are highly motivated to complete their degree, but are frequently balancing the competing demands of family, work and school," said Tom Walker, dean of the School of Professional and Continuing Studies at UMSL. "If you're facing a particularly heavy academic load in the spring, or if you're concerned about demanding personal or work commitments, a three-credit hour course in the Winter Intersession could lighten the full spring semester load significantly."
Any students wishing to reduce their semester hours, get on a faster track to graduation and improve their skills, may take advantage of the Winter Intersession at UMSL.
"Winter Intersession also has proven popular for student-athletes attempting to balance demanding practice and travel schedules with a rigorous academic schedule," Walker said. "And it can be a great starting point for a lifelong learner wanting to test the waters of completing a degree or earning a second degree. Class sizes are small and instructors are available to help you on your academic journey."
Pre-registration for currently enrolled UMSL undergraduate and graduate students begins Nov. 4. Regular registration for those not currently a UMSL student begins Nov. 18. New degree-seeking, visiting, non-degree seeking, and returning UMSL students must apply and be admitted to UMSL before registering for classes. The deadline for Winter Intersession registration is Jan. 2.
Students enrolled in Winter Intersession courses are eligible to participate in the UMSL Metro Pass program. Winter Intersession and spring semester Metro passes are now available in the UMSL Cashier's Office at no additional cost to students who pay student activities fees, regardless of credit hours taken.
For more information on the Winter Intersession, including the courses available and schedule, visit pcs.umsl.edu/wi.

Short URL: https://blogs.umsl.edu/news/?p=42289