UMSL students make music for MADCO's 'Pulse 2'
Tom Winkler, a senior music major, has been playing piano for 20 years and isn't afraid of experimentation.
"I like to try new things with instruments," he said. "I've done a lot of work for percussion and piano, which is rarely done, and for the marimba. Keeping those different instrumentations keeps things exciting and new for me each time."

This weekend, Winkler will be able to add a new skill to his music qualifications. His composition will accompany the dancers of MADCO in a collaborative performance between the professional dance company and the University of Missouri–St. Louis Department of Music. "Pulse 2 – The Rhythm Continues" will run Friday, Saturday and Sunday at the Blanche M. Touhill Performing Arts Center.
In addition to Winkler's piece, Professor Barbara Harbach and Lecturer Scott Lyle have also contributed compositions, and the UMSL Percussion Ensemble will perform two pieces partially composed by the members. A jazz improvisation will also take place on stage. MADCO dancers have choreographed the dance performances. "Pulse 2" is the second time UMSL's music students have collaborated with MADCO. The original "Pulse!" took the stage in October 2011.
The collaboration allows UMSL musicians to gain experience performing and composing music that is designed to accompany dancers. Composing music for choreography is different than composing music purely for listening, adding an important dimension to music students' training, said Matt Henry, assistant teaching professor of music.
"When composing for dance, your job is to help paint the picture of what the dance means," Henry said. "I would ask the choreographer if the piece was dark or light or fast or slow. We get those descriptors and translate those into musical concepts."
As a student of piano performance and composition, Winkler has composed pieces before and has even done work for films. But composing music for dancers is a new experience that takes different abilities. A section of music might have to be cut or extended to match the choreography.
"Generally, as a composer you can do whatever you want," Winkler said. "But in this case, it had to fit within certain parameters for the dancers. I've never done anything like this before."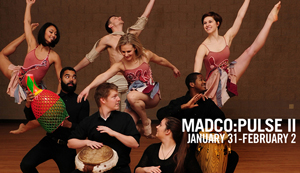 Winkler originally wrote the four-movement piece for a class a few years ago. It was revived when it caught the ear of a MADCO choreographer and was edited down to the section most conducive to being paired with choreography. With a few tweaks and additions of percussion instruments, False Fugue in C Minor will ready to accompany the dancers of MADCO this weekend.
Rehearsal plans for "Pulse 2" also offer students another glimpse of life as professional musicians. The accompanists and dancers will have only spent a few rehearsals preparing together, which is common for professional musicians.
"In a collegiate environment, you have 10 or 15 rehearsals, maybe even 20, and then you play a concert," Henry said. "That isn't indicative of what will happen when you get out in the professional world."
For ticket information, visit www.touhill.org.

Short URL: https://blogs.umsl.edu/news/?p=45294