Rec Center progress on display in local media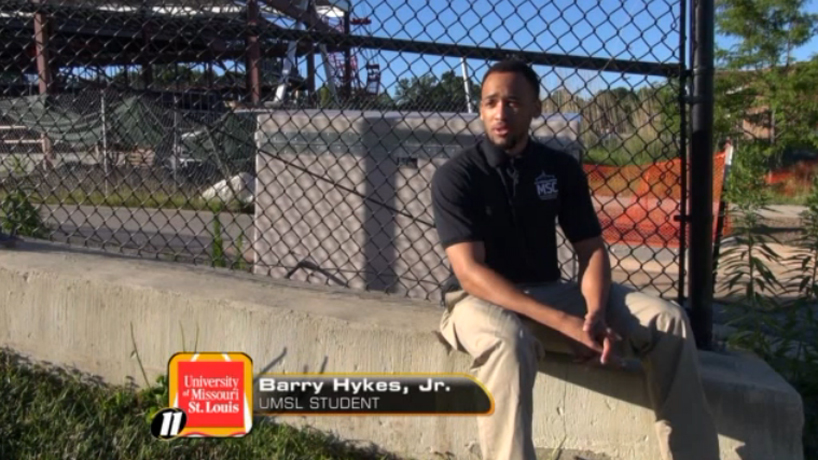 Physical fitness is important to University of Missouri–St. Louis student Barry Hykes. The senior biology major regularly works out to blow off steam from his studies and student work for building operations at the Millennium Student Center. With the new Recreation and Wellness Center under construction at his back, he spoke with KTVI (Channel 2) reporter Kim Hudson about why he felt the facility was important.
Hykes voted in favor of the Rec Center two years ago, even though he won't enjoy it as a student once it opens at the start of the fall 2015 semester.
"Because of everything that the university has done for me as a student, in the future I want to give back to it," Hykes told KTVI. "So it's nice to see the progress that is being made on campus."
Hudson returned to her alma mater to give an update on the center's construction progress. The alumna, BA communication 2000, also interviewed Chancellor Tom George and Curt Coonrod, vice provost for academic affairs.
"We've had different student groups and different student government associations look at it," George told Hudson of past efforts to build a recreation center on campus. "And, it finally all clicked about two or three years ago."
The UMSL campus community and construction crew recently celebrated the completion of the facility's framework with a "topping off" ceremony. The exterior of the facility will soon be closed off with the build-out of the interior being the focus over the cold-weather months. The center is on target for a 2015 opening.
Visit KTVI's website to view the full story, which includes several visuals of the construction progress.


Short URL: https://blogs.umsl.edu/news/?p=50313