'In the Red and Brown Water' puts Kenyata Tatum in the spotlight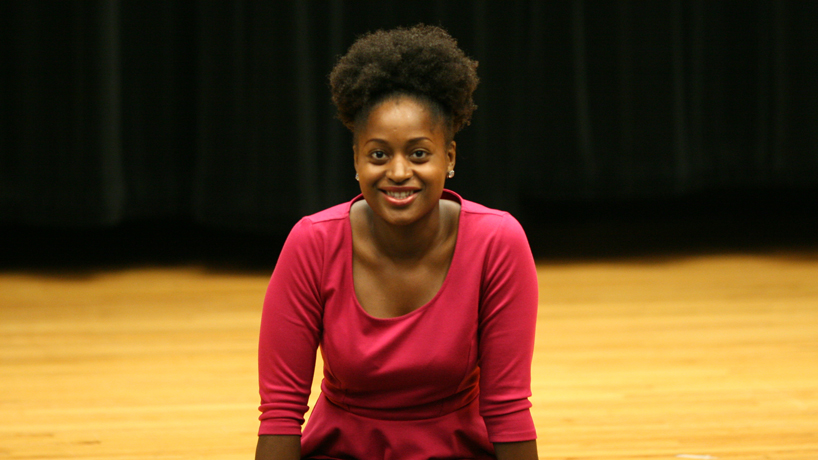 Acting comes naturally for Kenyata Tatum, but her most recent role is also a challenging one.
Tatum, a senior at the University of Missouri–St. Louis, stars this week in "In the Red and Brown Water," a play sponsored by the College of Fine Arts and Communication and directed by Jacqueline Thompson, assistant professor of theatre.
"In the Red and Brown Water" tells the story of Oya, a promising runner who faces difficult choices as she reaches womanhood. The play, written by Tarrell Alvin McCraney, incorporates aspects of traditional African culture, creative storytelling and the theme of how young people's choices impact their futures as they transition toward adulthood.
"There's a part in the play when one of the characters is talking to Oya about opportunities and how in life you have to take advantage of them because there are no guarantees that the same opportunity would come again," Tatum said. "That's a significant message that I hope the audience can grab hold of while watching the story of Oya unfold."
The basic storyline is a simple coming-of-age story, but also draws on elements of the traditional African Yoruba religion, such as naming characters after Yoruba deities like Oya and Shango. This marks the first time that the play has been performed in St. Louis.
Thompson selected the play because she was moved by its message of taking opportunities that come your way. The theme of how choices shape a person's destiny runs throughout the play.
"It speaks to seizing the moment and taking advantage of opportunities that are presented in life that can propel you to the next level," Thompson said. "We never can escape the consequences of our choices, so making sound choices is imperative to one's destiny."
Tatum is a native of Houston, Texas, but was mostly raised in the St. Louis area. She attended Hazelwood East High School in Hazelwood, Mo., before transferring to and graduating from Maplewood Richmond Heights High School in Maplewood, Mo. She first became involved in drama when she appeared in the middle school play "18 Nervous Gumshoes." She also had a role in "A Midsummer's Night Dream" and enjoyed playing the villain Shere Khan in "Jungle Book."
Oya is one of the more challenging roles Tatum has played, in part due to the play's creative storytelling elements. Learning the character's lines isn't difficult, but learning to embody the play's multiple layers is the challenge. Tatum has blossomed in the role, said Thompson.
"I am extremely proud of Kenyata's growth through this process," Thompson said. "She is dedicated, focused and has done extensive research to find nuances in her character. Her passion and tenacity will take her far in the theater business. Kenyata's future is beaming with purpose and promise."
Tatum has always loved dance and drama, but in high school considered it to be more of a hobby than a career. Her love of animals inspired her to pursue pre-veterinary studies at Southeast Missouri State University. After a few years, though, she transferred to UMSL and eventually switched her major to theater and dance, choosing to study what she loved.
"Theater and dance just come naturally to me, and I think when there's something that you love to do and it comes naturally to you, I think that's what you should do," Tatum said.
When she's not studying for her UMSL classes, Tatum is also active in the Banyan Dance Theatre, which specializes in Afro-Cuban dance.
"In the Red and Brown Water" runs Thursday through Sunday at the Blanche M. Touhill Performing Arts Center. Show times are 7:30 p.m. Thursday, Friday and Saturday; 2 p.m. Saturday and 2:30 p.m. Sunday. Tickets are $5 for students and $10 for the general public.
Media Coverage:


Short URL: https://blogs.umsl.edu/news/?p=52581