Huelsman earns First Team All-GLVC Honors; 4 others tabbed Third Team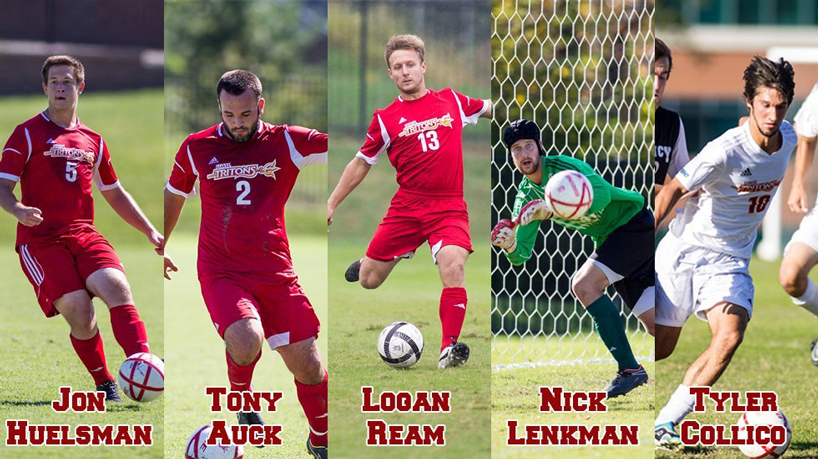 Junior midfielder Jon Huelsman of the University of Missouri–St. Louis men's soccer team has been selected to the All-Great Lakes Valley Conference First Team, while four other UMSL Tritons were named to the league's third team, including senior backs Tony Auck and Logan Ream, senior goalkeeper Nick Lenkman and junior forward Tyler Collico.
Huelsman led UMSL with 26 points, including team-bests of 10 goals and six assists. He tallied four game-winners and recorded three two-goal games. Huelsman was named both the GLVC Offensive Player and Disney Soccer/NSCAA Division II Player of the Week in mid-October.
He started all 18 games, and recorded 47 shots, including 24 on goal for a shot on goal percentage of .511. In GLVC-only games, Huelsman ranked fourth in points (20) and goals (eight). He earns all-GLVC honors for the second straight year after earning second team accolades a year ago.
Auck and Ream were both mainstays in the backfield, helping the defense to eight shutouts, while limiting opponents to a shot percentage of .075. Auck also got in the scoring column in the regular season finale against Maryville with his first collegiate goal, which earned him GLVC Defensive Player of the Week honors. He was a Third Team All-GLVC selection in 2012.
Lenkman started all 18 games between the posts, posting a 12-4-2 record with seven shutouts and recording 60 saves. He tallied 10 of those saves in a double overtime tie against then No. 6 ranked Quincy, holding the Hawks without a goal for the first time this season. For his efforts, Lenkman was named the GLVC Defensive Player of the Week.
In GLVC-only games, he ranked second in shutouts (seven), seventh in goals against average (0.79) and eighth in save percentage (.800).
Collico started all 18 games and was second on the team with five assists. He also scored four goals for a team third best 13 points. He led the squad with 51 shots, landing 20 on goal.
UMSL posted a 12-4-2 record, tying the most wins in head coach Dan King's 14-years. The Tritons were 11-3-1 in GLVC play, a program-best, and garnered the No. 3 seed in the league tournament. UMSL hosted a GLVC Tournament quarterfinal game for the first time since 2002, but bowed out with a 2-0 loss to No. 6 seed Indianapolis.


Short URL: https://blogs.umsl.edu/news/?p=53582