'Voices from the Holocaust' combines new works with those of victims
As the decades pass since World War II, those who experienced the Holocaust first-hand are becoming fewer and fewer.
Three professors at the University of Missouri–St. Louis want to preserve the words, artwork and music of those who both survived and perished in the Holocaust through a new program, "Voices from the Holocaust: Music Makes You Free." The program will feature works by people who experienced the concentration camps of the time and new pieces designed to commemorate that horrific period of history and educate younger generations.
"It's extraordinarily important that people, especially young people, be aware of this terrible time in history," said Gail Fleming, lecturer of music education at UMSL. "They need to know for their own knowledge but also to make sure that it doesn't happen again."
Voices from the Holocaust will premiere Sunday, Nov. 23, the Central Reform Congregation, 5020 Waterman Boulevard, St. Louis, 63108. The group has received funding from the College of Fine Arts and Communication, Des Lee Collaborative Vision, International Studies, and Women in the Arts to bring the program to schools.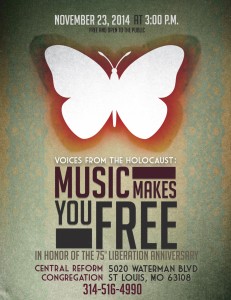 The event has three main components, each developed by a UMSL faculty member. Fleming will present an original arrangement of music composed by two prisoners of the Dachau Concentration Camp, and perform an original composition capturing her emotions upon visiting the camp in Germany. Barbara Harbach, Curators' Professor of Music, will premiere her composition Terezin Children's Songs, which was based on poetry written by children in the Terezin Concentration Camp. Kathleen Nigro, associate teaching professor of English, will weave a narrative of poetry and information about the Holocaust throughout the music.
The program serves to not only educate the audience on the facts of the Holocaust, but also to give a voice and identity to people who were kept in the camps.
"You will see who wrote those poems and you will see who made that picture," Nigro said. "Those people had names."
Fleming developed her contribution after a visit in 2008 to Dachau near Munich, Germany. She will present an original arrangement of music composed by two prisoners, Herbert Zipper and Jura Soyfer, of the Dachau concentration camp, which represents an act of subtle defiance against the Nazis. Fleming will also include an original composition capturing her emotions upon visiting the camp in Germany.
"It almost sounds military-like, upbeat," Fleming said. "The message is you can take our body, you can take us away from home, but you cannot take our spirit. They taught it to other prisoners and the tune was so catchy that prison guards actually sang along with it."
While other versions of the song have been done, Fleming's version fills in missing notes and attempts to recreate the original composition.
Fleming also utilized an interview with St. Louis-area Dachau survivor Mendel Rosenberg to produce facts and information about life and death at Dachau.
Harbach developed her composition by researching the Terezin Concentration Camp, also called Thereisenstadt, in the Czech Republic. Between 1942 and 1944, 15,000 children arrived at the camp, but only 100 survived. One prisoner, Friedl Dicker-Brandeis, brought art supplies in with her and encouraged the camp's children to create art and poetry, and documented their presence at the camp by having them sign their names and ages to their work.
Five poems about the Holocaust will be featured, including four written by children from the Terezin camp, selected by Harbach.
"The poetry resonated within me," Harbach said. "The poems can be uplifting, and they're wise beyond their years."


Short URL: https://blogs.umsl.edu/news/?p=53809