Link in with UMSL|ASK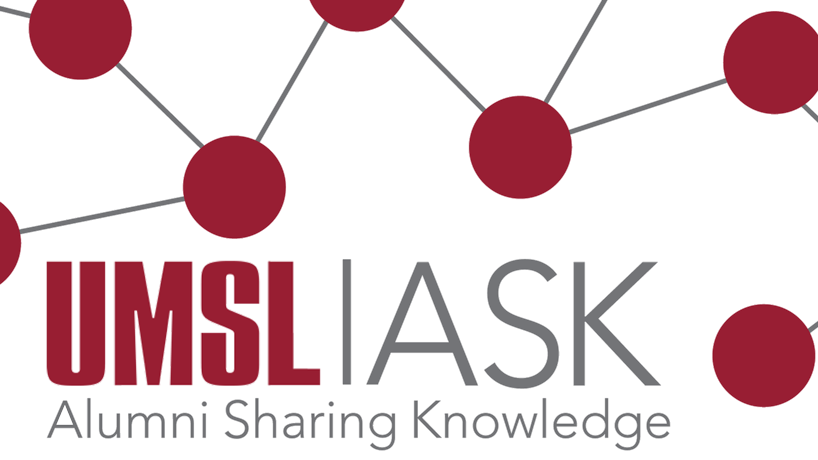 The name may suggest an online space for posting questions, but UMSL | ASK does so much more than provide answers. Alumni Sharing Knowledge, the phrase behind the acronym, is the basis for the new LinkedIn group formed and managed by the Office of Alumni Engagement and Community Relations at the University of Missouri–St. Louis.
"This group is all about connecting students and alumni together through career advice," says James Page, assistant director of alumni engagement.
LinkedIn is a professional network site, which Page hopes more UMSL alumni and students will use. He encourages members of UMSL | ASK to reach out to one another, share articles, offer tips and post job opportunities. The group also gives members the opening to connect over their shared background with the university.
That's something that excites UMSL | ASK member Laura Burkemper.
"Networking, or better said, relationship building, helps us to gain knowledge, uncover opportunities, build stronger alliances and even grow global economies by narrowing the theory of six-degrees of separation."
Burkemper, BSBA 1990, is chief executive officer and business & brand catalyst at The Catalyst Center in St. Louis. She says students on UMSL | ASK generally seek employment and an understanding of what opportunities and resources are available to them, whereas alumni connect for subject matter expertise, skill sets or strategic partnerships to align and grow business.
"It's about service," she says. "And finding out what we can do to help each other."
LinkedIn is an extremely valuable tool professionally for Burkemper.
"Relationships are a catalyst for success. After all, none of us are as good as all of us. Not only is it important to know your strengths, but it is equally important to surround yourself with others whose strengths you may one day need to lean on for assistance or advice."
UMSL | ASK provides just that. The group's news feed has links to articles like "6 things you must do before a successful interview" and "Turn your job into your dream career." If a member is searching for specific skill sets, there are more than 65 other members to tap. Burkemper is an ideal connection for expertise in the areas of business strategy, brand and marketing as well as entrepreneurship, angel investing and guest speaking. In fact, she approaches her LinkedIn profile with some of the same strategies she uses in business.
"Great brands create a competitive advantage by conveying their unique value," she says. "In the same manner, it's important to brand yourself appropriately. Create the message, profile and image that fits your goal and objective at hand."
This is helpful advice for all users of LinkedIn who are either longtime members looking to makeover their profile or new members just developing their social media presence. In a world where business is becoming increasingly reliant on digital connection, UMSL | ASK makes smart business sense for alumni and students of the university alike.

This story was originally published in the fall 2014 issue of UMSL Magazine.


Short URL: https://blogs.umsl.edu/news/?p=54343