Athletics Q&A with senior guard Alexis Lawrence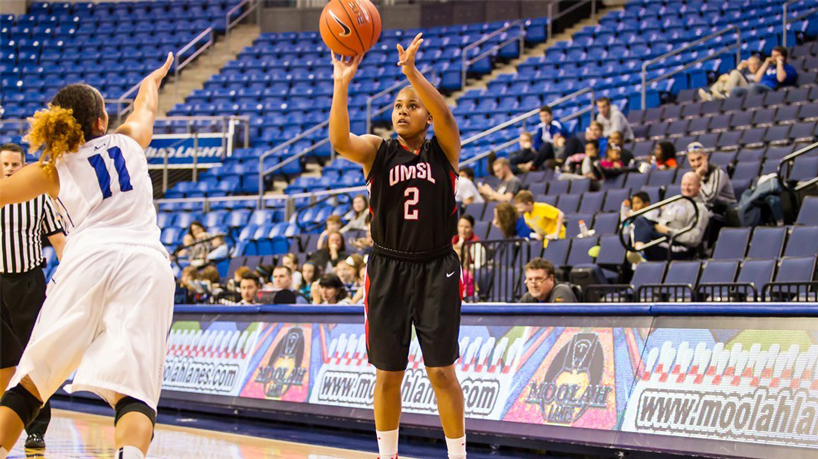 By KATIE RUTLEDGE
Senior Alexis Lawrence has been a key component to the recent success of the University of Missouri–St. Louis women's basketball team. A three-point shooting threat (she ranks fifth in career three-pointers made with 147), Alexis, a business administration major, is also leader for her team on and off the court and is hoping to have one last memorable season.
What are some of your team goals for this year?
A couple of our goals for this year are to go farther in the NCAA Tournament than we did last year, as well as become conference champions.
What is your favorite memory at UMSL?
Last year we had a viewing party at Coach (Katie) Vaughn's house for the NCAA selection show. My favorite memory would have to be when they called our name and we realized we were going to the NCAA Tournament.
What has Coach Vaughn been stressing this year in practices?
Execution and communication!
As you gear up for the Great Lakes Valley Conference opener in January, what are your hopes?
My hopes are to come out strong and make a statement/impact. We are really hoping to change people's views on our team.
You have been quite the impact player for the program the past three years, how do you think this experience is allowing you to lead the team?
I know coaches' expectations and having been in the underclassmen's shoes at one time, I know how to keep them positive and to keep going.
What are you most looking forward to this season? Why?
Traveling with the team! Road trips are so much fun. Also seeing what everyone is capable of doing because I believe we have a lot of key players who can make a difference. I am just ready to see everyone at their full potential.

Katie Rutledge is a UMSL senior majoring in education with an emphasis in elementary education and a student in the Pierre Laclede Honors College. She's also an outfielder on the UMSL softball team and an athletics media intern.


Short URL: https://blogs.umsl.edu/news/?p=54496