Smith earns First Team All-GLVC honors, Wimbish tabbed to Second Team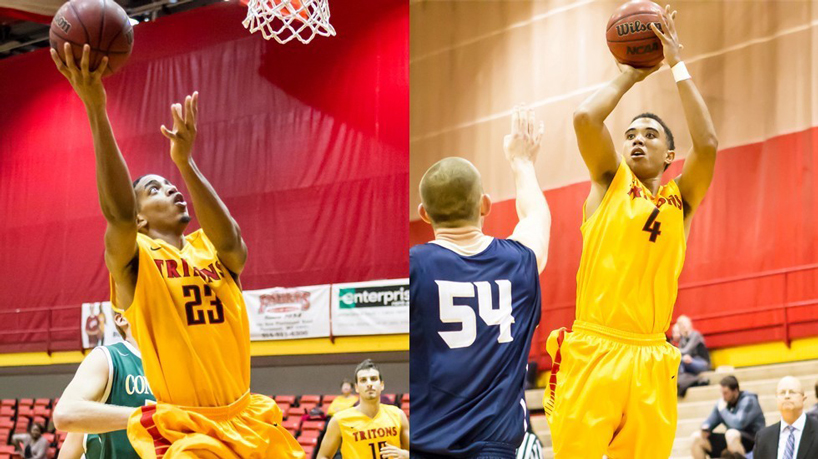 Senior forward Aareon Smith (23) of the University of Missouri–St. Louis men's basketball team was named to the All-Great Lakes Valley Conference First Team, while senior forward Tylor Wimbish was named to the Second Team.
Smith, a business administration major, led the Tritons and ranked fifth in the GLVC with 17.6 points per game and was second in the league and 18th in NCAA DII with 9.5 rebounds per game. He also owned a league-best 15 double-doubles and ranked second in the GLVC and sixth in NCAA DII in free throws made (197) and second in the GLVC and eighth in DII in free throws attempted (241).
His 529 total points this season are 10th on the single season charts and are the most by an UMSL player since Jonathan Griffin scored 538 during the 2004-05 season. Smith scored a career-high and GLVC second-best 38 points at Truman State on Feb. 21, which included his 1,000th career point. His 197 free throws made and 241 free throws attempted are third most and second most, respectively, on the single season charts.
In GLVC-only games, Smith averaged 18.4 points (fourth) and 9.9 rebounds (second) per game.
Wimbish, a liberal studies major, averaged 13.3 points and 5.9 rebounds per game, while shooting 53 percent from the field and in GLVC-only contests, averaged 13.4 points and 5.3 boards per game. Wimbish was a First Team All-GLVC selection last season.


Short URL: https://blogs.umsl.edu/news/?p=55856