Triton duo working with fellow student-athletes on making the right choices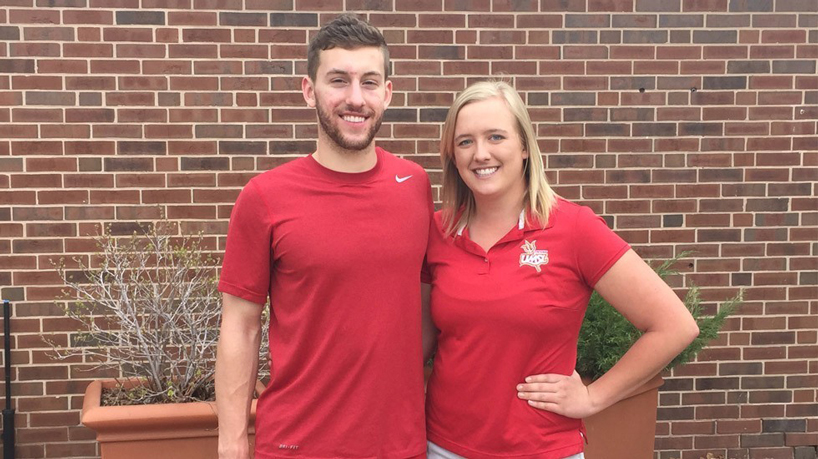 College is about having fun. But sophomore Miranda Rohlfing of the women's golf team and sophomore Evan Garrad of the men's soccer team want to make sure their fellow University of Missouri–St. Louis student-athletes are doing it safely. The two are part of a new organization on campus called Triton Health Educators and more specifically are raising awareness on drugs, alcohol and sexual consent though an NCAA grant-funded project called CHOICES, which provides funding for NCAA member institutions and conferences to integrate athletics into campus-wide efforts to reduce alcohol abuse.
"College students have a lot of choices to make and we want them to make the right ones," said Rohlfing. "While we focus a lot on alcohol use and sexual consent, we also try to raise awareness with other healthy behaviors such as sleep and eating right."
The two have been giving presentations to UMSL's different athletic teams this year, which consists of more than a just a lecture on the negative effects of drinking.
"A lot of it is also interactive," Rohlfing said. "We have beer goggles (which simulate vision impairment from drinking alcohol) and ask them a bunch of different questions and just try to educate them on the choices they do have."
"We are not trying to be parental figures and say you shouldn't drink," said Garrad. "We just want them to stay safe and healthy in college."
Both Rohlfing and Garrad, both students in the Pierre Laclede Honors College, were approached by Harry Harris, student development coordinator and Co-SAAC (Student-Athlete Advisory Council) adviser about being a part of Triton Health Educators and both are grateful for the experience it has provided.
"This has been a great opportunity in being able to educate on health and wellness as a biology/pre-med major," said Garrad. "But it has also really developed my confidence in being able to talk in front of groups of peers."
Rohlfing, a nursing major, agreed. "I never would have imagined how my leadership skills have grown from this experience," she said. "I was honored when Harry approached me about it and thought it would be a great thing to do educationally with my nursing major, but it's also done so much more."
The two have admitted there have been some growing pains in this first year, but are excited about how they can grow the program. Rohlfing and Garrad, along with Jessica Ploss and Lindsay Meyer, both of the volleyball team, will attend the NCAA DII Apple Conference April 17-19 in Myrtle Beach, SC. The Apple Conference is a training symposium dedicated to substance abuse prevention and health promotion for student-athletes and athletics department administrators.
Rohlfing and Garrad also know the organization will only get better with the more students that are involved and with only a couple of months left in the semester, they are trying to spread the word about Triton Health Educators and recruit others to join the group, specifically other student-athletes.
"It's a great organization and it's not about not drinking or having fun in college – it's about doing so responsibly," Garrad said.
For more information on Triton Health Educators and what they are doing on campus, like their Facebook page.


Short URL: https://blogs.umsl.edu/news/?p=56306