Business college and accounting programs maintain legacy of excellence
Graduates of the University of Missouri–St. Louis College of Business Administration know their education and degree are top-notch.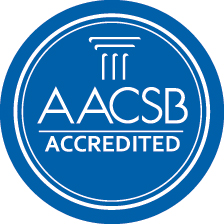 That sentiment is reinforced by the recent announcement that both the college and the Department of Accounting have maintained their longstanding accreditations by the Association to Advance Collegiate Schools of Business.
"The 28,000 graduates of UMSL's College of Business Administration will be gratified to hear that we are continuing to provide the highest quality business education, as was just verified by the world's leading accrediting body, the AACSB," said Dean Charles Hoffman. "We intend to continue to enhance the quality of our programs while remaining the best value for our students in the region."
Founded in 1916, the AACSB International is the most stringent global accrediting body for business schools that offer undergraduate, master's and doctoral degrees in business and accounting.
"It takes a great deal of commitment and determination to earn and maintain AACSB accreditation," said Robert D. Reid, executive vice president and chief accreditation officer of AACSB International. "Business schools must not only meet specific standards of excellence, but their deans, faculty and professional staff must make a commitment to ongoing continuous improvements to ensure that the institution will continue to deliver the highest quality of education to students."
Thomas Eyssell, associate dean and director of graduate studies in the college at UMSL, is no stranger to the rigorous review process of the AACSB. Eyssell, along with Steve Moehrle, professor and chair of the Department of Accounting, led and coordinated the efforts of faculty and staff throughout the review.
"AACSB accreditation is the hallmark of excellence in business education and has been earned by less than 5 percent of the world's business programs," said Eyssell. "Only three business schools in St. Louis carry AACSB accreditation – UMSL, Washington University and St. Louis University. And only one of those – UMSL – holds dual accreditation in both accounting and business. This 'exclusivity' is attributable to the fact that AACSB accreditation means that our faculty and our programs have undergone rigorous review and met high and evolving standards. A hallmark of AACSB accreditation is the concept of 'continuing improvement' – we strive to get better every year."
UMSL's business college has more than 100 full- and part-time faculty members and enrolls 2,700 undergraduate and graduate students. In addition to learning from outstanding faculty who are experts in their fields, UMSL students have the opportunity to gain real-world experience by interning. Working with hundreds of organizations, UMSL places over 400 students in paid internships per year, many of which lead to permanent positions.
The accounting program at UMSL has a long-standing reputation for preparing exceptional accountants. The department offers an undergraduate and graduate program. Graduates of the program repeatedly score the highest nationally on the CPA exam. For example, in the last six years, three UMSL accounting students have received prestigious honors for performance on the CPA Exam. Accounting students engage in community outreach, having prepared over 35,000 income tax returns for low income families and seniors – 3,200 last tax season alone – and have won numerous awards from the Internal Revenue Service.
"Our mission in the Department of Accounting at UMSL is to ensure that an affordable world-class professional accounting education remains available to our students," Moehrle said. "The AACSB is the elite accrediting body globally, and we are proud to once again have them recognize our students, alumni, faculty and programs."


Short URL: https://blogs.umsl.edu/news/?p=56362