UMSL professor publishes a baby boomer's how-to guide to navigate the Internet
For many of us, life without the Internet is unimaginable. Sending emails, posting to Facebook and Instagraming our lunch are daily activities. But for some members of the baby boomer generation and older, navigating the World Wide Web is challenging, scary and even dangerous.
Vicki Sauter, professor of information systems at the University of Missouri–St. Louis, has published a new book aimed at making the process a little easier for both older individuals and their family members trying to teach them.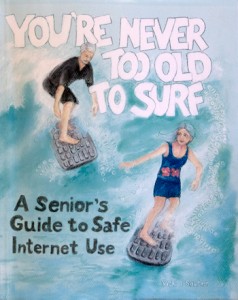 Her book, "You're Never Too Old To Surf: A Senior's Guide to Safe Internet Use," covers the basics of navigating websites and searches, using social media, identifying scams and how to be safe online.
"I got the idea for this book while I was taking a YMCA water aerobics class," Sauter said. "There were a lot of older people in the  class, and once they learned I knew about computers, they started asking me questions, which is a little difficult to explain in the pool. To try to get to the problem, I would ask them questions such as, 'Well, what browser are you using?' and they'd reply, 'I'm not using a browser.' Clearly I needed more simplistic questions. I would move to questions such as, 'What kind of icon do you click on?'"
Sauter began writing the 259-page paperback several years ago and then stepped away from it for a while. Knowing the need was still there for a guide to help the older generation learn the ins and outs of the Internet, she revisited it and updated a few things.
"I wrote the book in such a way that it's very detailed and touches on each step," she said. "Other such books skip steps, and that's where people get confused. Also, I wanted to make sure they understood how to be safe from scams and that not everything you read or see is true. I also stressed the importance of updates, because a lot of people ignore Microsoft updates or updates to their browser, and they end up leaving themselves pretty open. To explain the problem, I used a knitting analogy: if you do not update, it is like dropping a stitch in knitting; it does not seem too significant at the time, but it presents an instability in the finished product, and the whole thing unravels. The same is true for your computer system."
"You're Never Too Old To Surf: A Senior's Guide to Safe Internet Use" was published by CreateSpace Independent Publishing Platform. It's available at Amazon.

Short URL: https://blogs.umsl.edu/news/?p=56481