Men's golf wins 2015 GLVC Championship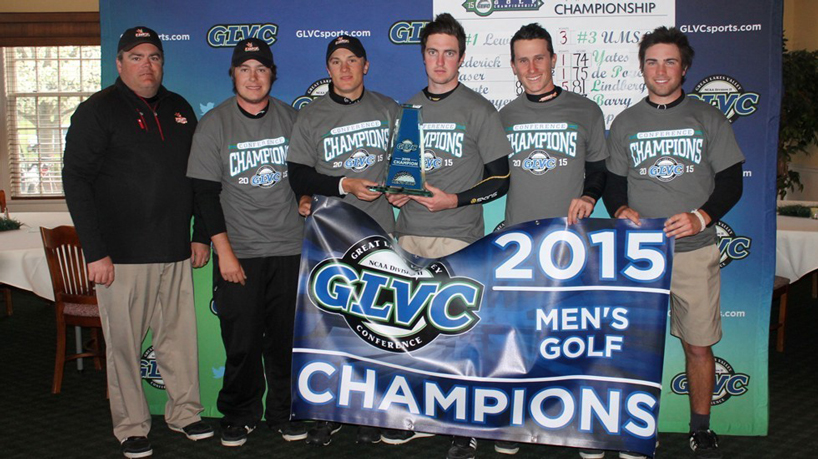 The University of Missouri–St. Louis men's golf team recorded its first Great Lakes Valley Conference Championship in program history on Tuesday afternoon, defeating Lewis, 3-2, in the match play final.
The UMSL Tritons finally captured the elusive title after finishing runner-up last year and just missing out on qualifying for the title match two years ago after finishing first in stroke play.
"This is really satisfying," said seventh-year head coach Troy Halterman. "We've been in it the last several years, but just couldn't get it done, so for these guys to beat two good teams today it's just really satisfying. I'm very proud of how they played and fought back. We were down on the back nine and they made some great rallies to come back and win it."
UMSL advanced to the championship match with a 3-2 win over two-time defending GLVC champion Indianapolis in the morning, and then battled literally to the end with Lewis, which finished first in the 54-hole stroke stroke play. Lewis defeated Illinois Springfield, 3-2, in the morning's other semifinal contest.
"When we left the 12th tee, we were only winning one match and in some cases, were facing big deficits in some of the matches," Halterman said. "Julien (de Poyen) took it from all square to a comfortable win, while Markus (Lindberg) was down two with four holes to play and made up two strokes on a couple pretty hard holes. I thought in the end, we would be facing a tiebreaker, which would be total strokes, but then we got word that Matt (Barry), who was four strokes down, had his opponent drive his ball into the water, so he was able to make up those strokes and then it literally came down to the final putts."
Lewis' Robert Dofflemeyer sank a 15-foot par, while Barry sunk his from 10-feet out to stay even with Dofflemeyer. The half-point UMSL received from that pairing gave the Tritons the 3-2 win.
While it's just the first GLVC championship in program history, the victory marks the third conference title overall for men's golf with the 1992 and 1993 teams winning MIAA championships. It is also just the second GLVC title won by a men's team (baseball in 2003) and the fourth overall in the athletics department (softball in 2013 and 2014).
The Tritons also received points in the championship match from junior Colby Yates, who defeated Ryan Frederick by one stroke (one point), sophomore Julien de Poyen, who defeated Jeremy Fraser by four strokes (one point) and freshman Markus Lindberg, who tied Austin Buente (half point).
UMSL, along with the 13 other schools competing in the 2015 GLVC Championship, endured three days of fierce conditions, dealing with rain and strong winds, but found a way to come out on top.
"We had some moments in stroke play where we didn't play well," Halterman said. "There were a lot of tough weather conditions, but we got through it and after the last couple of days we looked at today as new life. However, it was very windy, which dried out the course and made it firm and fast, so it was tough to score today. But we always work on that tough mentality and having to play under tough conditions, so to having to endure that for three days and to have these guys come out, in my opinion, as the toughest mentally, makes me even prouder."
The win holds additional significance for the Tritons as it secures them the GLVC's automatic postseason bid. UMSL is now assured of its 10th NCAA regional appearance for the program and the fourth in the last five years under Halterman. The NCAA will announce its official field on Friday.
Visit the GLVC website to view a GLVC Championship match play recap video.


Short URL: https://blogs.umsl.edu/news/?p=56696