Softball places 10 on All-GLVC teams, earns 3 major awards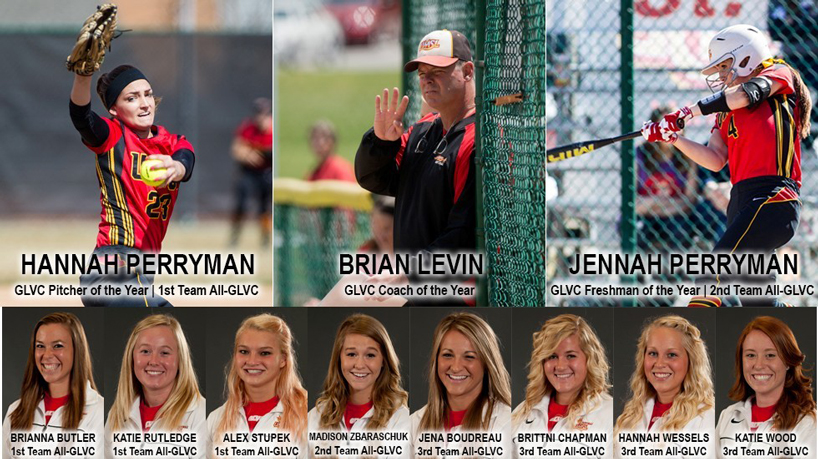 University of Missouri–St. Louis junior Hannah Perryman was named the Great Lakes Valley Conference Pitcher of the Year for the third straight year. Additionally, freshman Jennah Perryman was selected as the GLVC Freshman of the Year, while fifth-year head coach Brian Levin took home GLVC Coach of the Year honors.
The eldest Perryman was joined on the All-GLVC First Team by senior first baseman Brianna Butler, sophomore shortstop Alex Stupek and senior outfielder Katie Rutledge, while the youngest Perryman was joined on the All-GLVC Second Team by senior catcher Madison Zbaraschuk. All-GLVC Third Team selections were senior outfielder Jena Boudreau, senior pitcher Brittni Chapman, senior designated player Hannah Wessels and senior second baseman Katie Wood.
Below is a statistical breakdown of each All-GLVC UMSL softball player's season so far as of last week when the teams were announced.
Hannah Perryman
Perryman had an impressive year in the circle for the Tritons; most notably, tying and then breaking the NCAA Division II record for single season and career perfect games, as she now stands at five and six, respectively. Additionally, Perryman is the reigning two-time GLVC Pitcher of the Year after being selected her freshman and sophomore seasons as well. This season, the junior was thrice named GLVC Pitcher of the Week and also twice recognized as Louisville Slugger/NFCA Division II National Pitcher of the Week. The Streamwood, Illinois, native leads the league in opposing batting average (.137), strikeouts per game (13.51), and hits allowed per game (3.37). She finished second in the loop in batters struck out (301), wins (22), and doubles allowed per game (.54), while ranking third in ERA (1.30), batters struck out looking (57), hits allowed (75), and runs allowed per game (1.57). Moreover, she ranks in the top 10 for innings pitched (156), saves (3), appearances (33), games started (27), runs allowed (35), earned runs allowed (29), walks allowed (22), doubles allowed (12), and walks allowed per game (0.99). On the national stage, the southpaw leads all DII pitchers in strikeouts per seven innings (13.9) while tied for fourth in shutouts (10) and a single-game high of 18 strikeouts, fifth in hits allowed per seven innings (3.66) and sixth in total strikeouts (295). Her 1,061 career strikeouts currently rank 23rd all-time in NCAA DII, while this season she also became the NCAA DII career leader in strikeouts per seven innings (13.1).
Jennah Perryman
The youngest of the two Perrymans is the second UMSL newcomer to glean GLVC Freshman of the Year as teammate Alex Stupek earned the distinction just last season. Perryman cracked the conference top 10 in four statistical categories, including slugging percentage (.678), home runs (13), homers per game (0.29) and walks per game (0.44). Overall, the rookie hit .314 in 121 at bats, starting all 45 games. She scored 30 runs, tallied 38 hits with five doubles, while also driving in 28 runs. The Streamwood, Illinois, product accumulated 82 total bases with a .415 on-base percentage as well as a .678 slugging percentage.
Head Coach Brian Levin
This is Levin's second honor as GLVC Coach of the Year, as he also received the recognition in 2011 in his first year at the helm. The Triton skipper has led his team to a 40-6 overall record, the only league team to break the 40-win barrier in the 2015 regular season. He also led the group to a 25-5 GLVC mark, securing the Triton's second regular-season title as well as a No. 1 seed entering the conference championship tournament this weekend. Earlier in the season, UMSL owned a league-best, 19-game winning streak and is currently ranked No. 2 nationally – the highest ranking achieved under Levin's tutelage.
Brianna Butler
Butler earns All-GLVC honors for the fourth time in her career and is a three-time first team selection. She leads the GLVC in home runs with 18, which ranks sixth in NCAA DII, and also tops the league in slugging percentage (.878), which ranks 10th nationally. Brianna is second in the GLVC with a .417 batting average, fourth in walks (27) and sixth in hits (58). She owns 18 multi-hit and 13 multi-RBI games and was a two-time GLVC Player of the Week. Butler is the program's all-time career home runs (50), RBIs (170) and hits leader (234).
Alex Stupek
Stupek repeats as a First Team All-GLVC selection. She ranks second in the GLVC and 12th in the NCAA in home runs with 16, is third in the GLVC in runs scored (45), sixth in RBIs (41) and eighth in slugging percentage (.692). Stupek has 17 multi-hit and 13 multi-RBI games.
Katie Rutledge
Rutledge earns All-GLVC honors for the first time in her career. A four-year starter in the outfield, she is having her best season offensively. Rutledge has 12 home runs this season after just a combined two in the first three seasons. She is batting .336 with 40 hits, 32 RBIs and 34 runs.
Madison Zbaraschuk
Zbaraschuk earns All-GLVC honors for the fourth straight year and is a three-time pick to the second team. A GLVC Player of the Week earlier this season, she owns a .336 batting average with 45 hits, including a team-best 11 doubles and eight home runs. Zbaraschuk also has 29 RBIs and 19 runs scored.
Jena Boudreau
Boudreau earns All-GLVC honors for the third straight year after batting .308 in her final season with 38 hits, including 10 doubles, 19 RBIs and 30 runs scored. She is two runs shy of breaking the program's career runs record.
Brittni Chapman
Chapman earns All-GLVC honors for the third straight year. This season she is 17-3 on the mound with a 2.65 ERA in nine complete games.
Hannah Wessels
Wessels earns All-GLVC honors for the first time in her career. She is second on the team in batting average at .355 and batted a team-best .378 in GLVC play, recording 34 hits in league contests. Wessels has tallied 43 hits on the season, including eight home runs, and also has 27 RBIs and 29 runs scored.
Katie Wood
A three-time All-GLVC selection, Wood is third on the team with 48 hits, including 13 home runs, with 12 of those long balls coming in GLVC play. She is also second on the team in runs scored (36) and third in RBIs (33). Wood is batting .322.


Short URL: https://blogs.umsl.edu/news/?p=57091