Baseball has 3 earn All-GLVC honors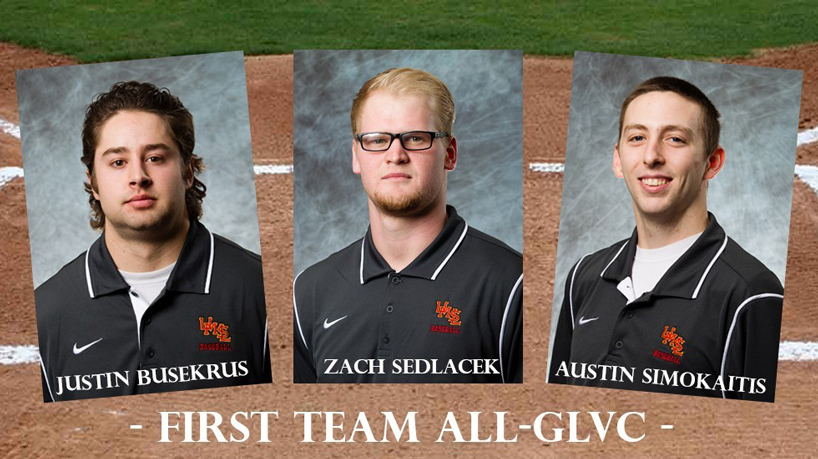 The University of Missouri–St. Louis baseball team had three players earn First Team All-Great Lakes Valley Conference honors.
Junior outfielder Justin Busekrus, senior starting pitcher Zach Sedlacek and junior relief pitcher Austin Simokaitis were all selected for the UMSL Tritons.
Sedlacek, a business administration major, is a repeat selection, having also earned First Team All-GLVC honors last season. He was 5-3 on the mound this season with a 2.67 ERA, which ranked ninth in the league. Sedlacek also ranked ninth in the GLVC with a team-best 56 strikeouts and was seventh in hits allowed per nine innings with 7.17. He made 10 starts and tossed one complete game in 54 innings of work this season, while limiting opponents to a .215 average.
Busekrus, a criminology and criminal justice major, led the Tritons in nearly every offensive category and posted a batting average of .375, which was eighth in the GLVC. He ranked fourth with a slugging percentage of .610 behind 51 hits, which included 12 doubles and six home runs. Busekrus also tallied 29 RBIs and 21 runs scored.
Simokaitis, an accounting major, led the GLVC with 11 saves, which ranks fifth nationally in NCAA DII and is second most in an UMSL single season. He also sported a 5-1 record on the mound in 22 appearances and 31 innings of relief work and limited opponents to a batting average of .173. Simokaitis opened the season by not allowing a hit in his first eight appearances or a run in his first 10 appearances. Additionally, he did not allow an earned run in his first 14 appearances. Simokaitis gave up just six runs on the season, including three earned.
UMSL finished the regular season with a 25-17 record, including a 17-17 GLVC mark.


Short URL: https://blogs.umsl.edu/news/?p=57226