UMSL alumnus receives UM System award for giving back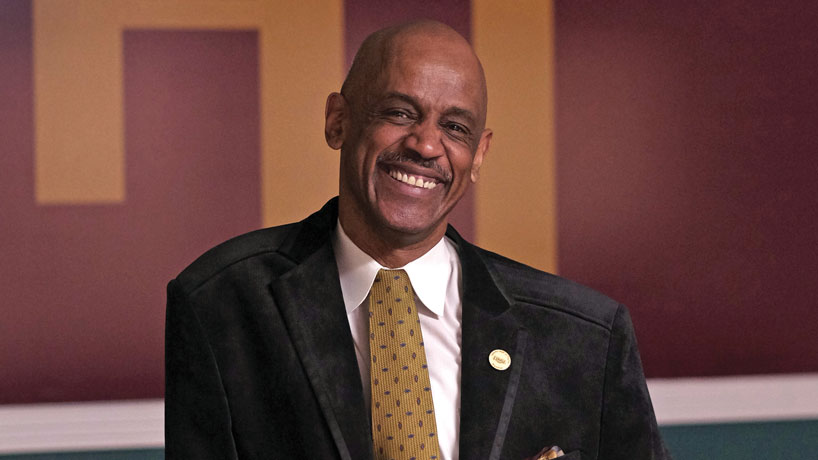 Hubert H. Hoosman Jr. views his service to the University of Missouri–St. Louis as his responsibility to give back.
Hoosman, who earned a BS in administration justice in 1979 from UMSL, recalls the impact former UMSL professor Scott Decker had on him.
"He was a very good department head, a progressive thinker," he says. "He was my personal student adviser and he was always available and accessible."
Hoosman, a resident of north St. Louis County, learned from Decker's example.
"I enjoy getting involved with students, I enjoy giving back because a lot of people helped me to finish school," he says.
His continued involvement and dedication to UMSL was recognized in February when he received the 2014 University of Missouri System's Presidential Citation Award for his outstanding service.
"It's humbling to be recognized for doing what comes naturally," Hoosman says.
He played four years on the UMSL men's basketball team, scoring 1,351 points in his career, the sixth best total in UMSL history. In 2007, he was inducted into the UMSL Sports Hall of Fame.
After earning his degree, he spent a short time in construction before stumbling onto his real calling in finance.
He spent the next 31 years in the financial world, the last 19, serving as president and chief executive officer of Vantage Credit Union before retiring in April 2013.
At Vantage, he created and facilitated several internship and shadowing programs for UMSL students, and hired some full time.
Since joining the Alumni Association in 1992, he's continued to give his time to UMSL and its students.
During his time as president of the Alumni Association, he launched the first Alumni Weekend Celebration designed to reconnect the university with its more than 80,000 alumni worldwide. He also established a $120,000 African American Alumni Chapter Scholarship fund.
He's a member of the UMSL Chancellor's Council, in which he led a successful campaign to establish a memorial plaza in honor of former Chancellor Marguerite Ross Barnett, who was the first African American woman to lead the university and founded the Bridge Program.
"What she did for the university was incredible," he says. "I felt that she needed to be acknowledged. She's a hero in the history of the university and we needed something appropriate to acknowledge that."
After retiring from Vantage, Hoosman and his wife, Andreal, opened Haywood Hoosman Realty and H&H Brokerage in Ferguson, Mo.
"There's only so much golf to be played in retirement," Hoosman says. "And this is really a passion of my wife's. She's wanted to have her own company for some time, and I've been able to bring my skills in from my former life to help. It's been challenging but also rewarding."

This story was originally published in the spring 2015 issue of UMSL Magazine.


Short URL: https://blogs.umsl.edu/news/?p=57021