Top-ranked Tritons land 7 on NFCA All-Midwest Region teams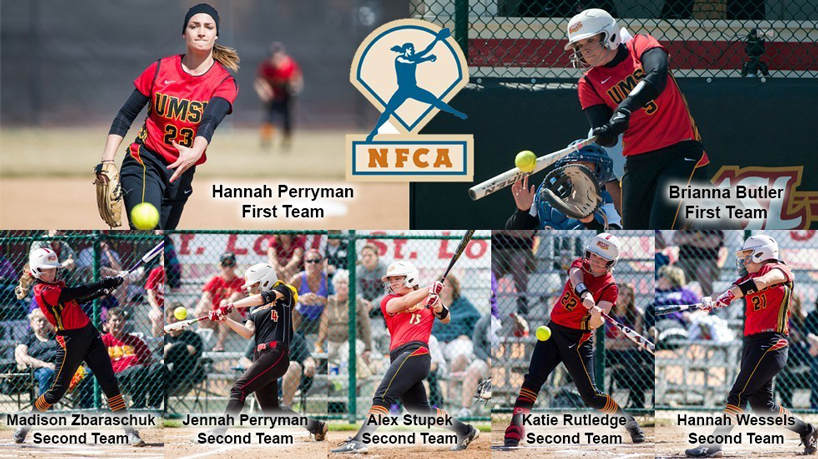 The No. 1 ranked University of Missouri–St. Louis softball team had seven players earn All-Midwest Region honors by the National Fastpitch Coaches Association (NFCA), including junior pitcher Hannah Perryman and senior first baseman Brianna Butler, who were first team selections. Second team honors went to senior catcher Madison Zbaraschuk, freshman third baseman Jennah Perryman, sophomore shortstop Alex Stupek, senior outfielder Katie Rutledge and senior designated player Hannah Wessels.
Perryman, one of three finalists for the Schutt Sports/NFCA Division II Player of Year award, is 29-3 in the circle this season with a 1.13 ERA and a .125 opponent batting average. The Great Lakes Valley Conference and Daktronics, Inc., Midwest Region Pitcher of the Year, has recorded 17 shutouts, including a current string of five straight, and has 353 strikeouts. A two-time NFCA Pitcher of the Week, Perryman has recorded an NCAA record six perfect games this season. She also tied four-time All-American and Olympic gold medalist Cat Osterman (Texas) and NCAA DIII All-American Rachel Johnson of Salisbury for first among all NCAA Divisions with her seventh career perfect game in UMSL's GLVC Tournament win over Rockhurst. She leads NCAA Division II in strikeouts per seven innings (13.1) and hits allowed per seven innings (3.12), is second in shutouts and strikeouts, sixth in victories and ninth in ERA. Read more about Perryman in the St. Louis Post-Dispatch.
Butler has started all 53 games at first base and leads the team with a .381 batting average. She is second with 59 hits, including a team-high and single season record 18 home runs, which ranks ninth in NCAA Division II. A First Team All-GLVC selection, Butler leads the team with 48 RBIs, a slugging percentage of .794, which ranks 34th in NCAA DII, and an on base percentage of .500. She has also drawn a team-high 37 walks. Read more about Butler in the Belleville (Illinois) News-Democrat.
Zbaraschuk has started 50 games at catcher and is batting .327 behind 51 hits, including a team best 14 doubles. She also has nine home runs, 36 RBIs and 22 runs scored. She was also a First Team All-GLVC selection this year.
The younger Perryman, the GLVC Freshman of the Year and a Second Team All-GLVC pick, has started 52 games in her first collegiate season and is batting .290 with 40 hits, including 14 home runs. She also has 30 RBI and 35 runs scored.
Stupek has started all 53 games at shortstop, and leads the UMSL Tritons with 61 hits and 47 runs scored. A First Team All-GLVC selection, she is batting .328 with a slugging percentage of .661 behind 16 home runs and 12 doubles.
Rutledge started all 53 games in the outfield and earned all-conference honors for the first time in her career this season, being selected to the GLVC's First Team. She is batting .323 and has 43 hits, including seven doubles and 13 home runs, after ending her final season with just two long balls. Rutledge also owns 38 RBIs, 39 runs scored and a slugging percentage of .684.
Wessels is second on the team with a .336 batting average and has 46 hits, including 10 home runs. The Third Team All-GLVC selection also has 31 RBIs and 36 runs scored and a slugging percentage of .606.
These seven have helped UMSL to a current 47-6 record. The Tritons will host No. 10 ranked Indianapolis on Friday and Saturday in the NCAA Midwest Super Regional in a best two out of three series with the winner advancing to the NCAA DII Softball Championships May 21-25 at ASA Hall of Fame Stadium in Oklahoma City, Okla.
The all-region teams were voted on by NFCA member coaches from each of the eight regions, and all the honorees now become eligible for selection to the 2015 NFCA Division II All-American teams.
The 2015 NFCA Division II All-America teams will be announced at on Wednesday, May 20, via NFCA.org.


Short URL: https://blogs.umsl.edu/news/?p=57368