Semester takes off with festivities welcoming new students
With the first week of classes fast approaching at the University of Missouri–St. Louis, new UMSL students will get set for the semester during Triton Take-Off Weekend Aug. 21 to 23.
"This is a unique chance for new students to enjoy their first weekend as a UMSL student," said Megan Green, director of New Student Programs. "Triton Take-Off Weekend is full of opportunities to meet and socialize with peers, tour academic buildings and find classrooms, learn how to ride the shuttles and officially pass the Triton torch."
The university is already buzzing with various orientation sessions and initiatives leading up to a new school year, but on Friday the level of activity on campus will soar, beginning with the start of Move-In Day for new on-campus students at 8 a.m.
Following the bustle of the morning and early afternoon, new students will gather for a kickoff presentation by keynote speaker Ryan Penneau, team activities and an ice cream social (Greek Freeze) Friday evening.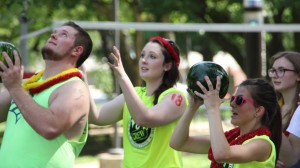 Highlights on Saturday include College Life 101, an "Olympics" competition in front of Oak Hall and Rock the Rec, the first large, campus-wide event to take place in the brand-new UMSL Recreation and Wellness Center. That celebration will feature smoothie samples, an intramural showcase, a Zumba class, rock climbing, ziplining and something called a "Coke Dive."
On Sunday morning the fun and worthwhile preparation continues for the newest members of the UMSL community, with activities ranging from a Find Your Faith meet-and-greet to tours of campus buildings.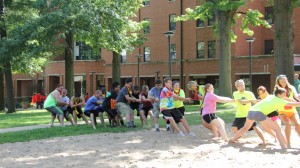 Later in the day, new students and all members of the campus community are encouraged to gather in front of the Thomas Jefferson Library to take part in the Serendipity Sendoff, a campus tradition that formally welcomes the newest Tritons to campus, and stay for a 5 p.m. picnic at the Millennium Student Center.
"We always look forward to sharing that tradition with the UMSL community and kicking off the Weeks of Welcome," said Jessica Long-Pease, director of Student Life. "Those events really set the tone for the start of the semester."
Long-Pease encouraged students to remember to stop by the Fall Expo on Aug. 26 as well.
"It provides an opportunity to meet with student organizations and campus departments face to face," she said. "Students can ask questions, find out about meeting schedules and create a plan for their involvement at UMSL. Being engaged and active on campus is so important and opens doors to even more opportunities for experience and growth. Taking advantage of that first chance to connect with others is something students won't ever regret."
For a full schedule of Triton Take-Off Weekend, click here. The Weeks of Welcome booklet (see the digital version here) also offers a handy guide to many student-driven campus events throughout the fall 2015 semester.


Short URL: https://blogs.umsl.edu/news/?p=58374