New students, 2 fish, 1 snail make Oak Hall home on Move-In Day
By Ron Austin and Marisol Ramirez
Yellow and red shirts bustled about the University of Missouri–St. Louis walkways leading up to Oak Hall as student volunteers carried desk lamps, mirrors, pillows and boxes to new students' rooms for Move-In Day on Friday.
Filled to capacity, everybody was focused on one thing – settling in for the new school year. Among all the new faces, UMSL Daily got to know a few of the incoming freshmen moving in and their families. Below are their Move-In Day stories.
Emma Kneifl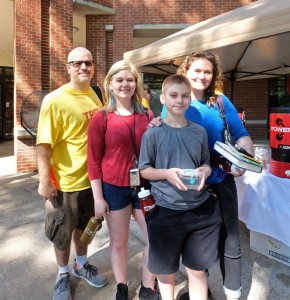 Brett Kneifl, father of studio art major Emma Kneifl, remarked at how well organized and inviting he found the crew of student movers.
"Pulling up and having so many courteous young men and women helping you unload is wonderful," he said. "I'm happy sending my daughter here because of the warm, friendly people."
Emma, who favors gothic design and dreams of drafting computer graphics for Marvel Entertainment, agrees with his sentiments.
"I visited the arts center on a tour and everyone was so nice. I've really loved it here ever since."
She's hoping her beta fish will love it here too.

Andre Williams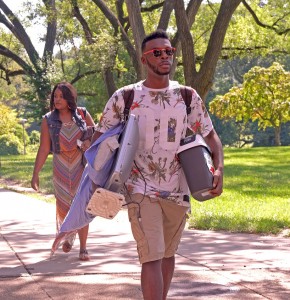 Incoming nursing major Andre Williams plans to study anatomy, biology and theatre, and hopes his varied interests will land him a Pierre Laclede Honors College scholarship in the future.
"In high school I performed in 'The Odd Couple,' 'The Ugly Duckling' and a bunch of other plays," he said.
William's mother, Keisha, is proud of her son's ambitions, yet found Move-In Day to be bittersweet.
"I remember when I was dropped off for my first year of college and how much of an exciting but sad time it can be," she said. "I hope he doesn't forget the morals and values he was raised with, but this is a blessed day. He's outgoing, and I know he will do well."
Jillian Collis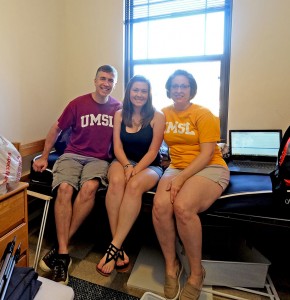 Atop incoming freshman Jillian Collis' new desk sat a Canon Powershot SX30 IS camera.
"I've always been interested in photography since I was a little girl," Collis said. "My mom gave me my first film camera when I was a little kid – maybe in like fourth or fifth grade."
Now Collis is a studio art major with an emphasis in photography at UMSL. She is also part of the Pierre Laclede Honors College.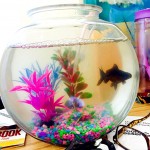 "I'm so excited to be living here in Oak Hall and be an honors student."
Along with her camera, Collis also moved in her aquatic friends – Omi, the fish, and Gary, the snail.
Mia Jones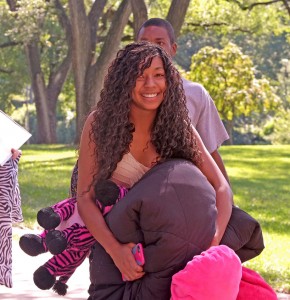 Mia Jones plans to put her people skills to use at UMSL. The recent prom queen of South Pemiscot High School chose UMSL to study social work.
"I have a passion for helping people," said the incoming freshman.
It's a field with which Jones is very familiar, having a mother who is a social worker and a family friend in the profession as well.
"I like my room," Jones said as she unloaded a frame of prom night photos and a zebra pillow. "It's close to home, but far enough away, too."
Her dad, Corlet Spears, helped his daughter move in and is happy she's attending UMSL.
"I think it's awesome," he said. "She's my first, and I'm just very, very proud of her."
Student volunteers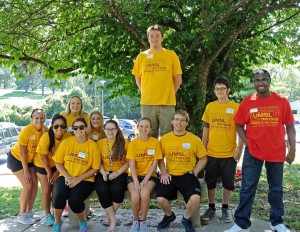 Joel Evans (far right), a desk assistant at UMSL, joined efforts with the rest of the student volunteers to help new students settle into Oak Hall.
"I just want students to feel welcomed," he said.
Evans, a student in the SUCCEED program, said he was happy to take a break and lend a hand. He is studying computer science at UMSL and wants to create the next blockbuster video game.
For additional stories, see the St. Louis Post-Dispatch's coverage of UMSL's 2015 Move-In Day.


Short URL: https://blogs.umsl.edu/news/?p=58391