Athletics Q&A with senior setter Lindsay Meyer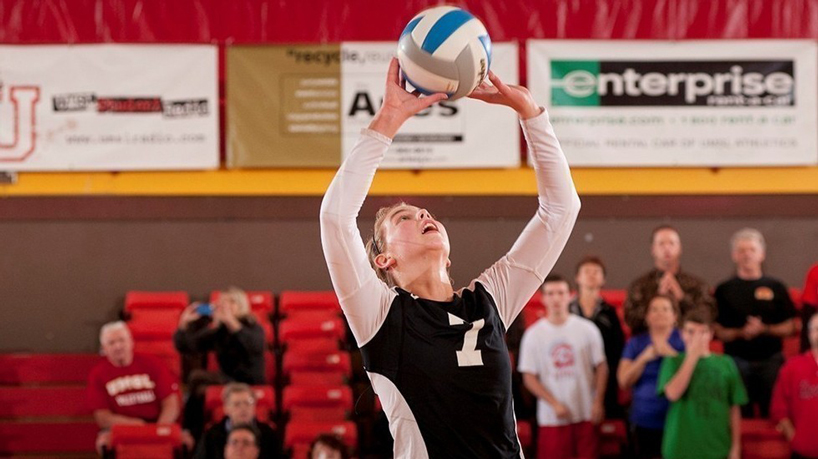 By Kevin Smith
Senior Lindsay Meyer is in her fourth season as a starting setter for the University of Missouri–St. Louis volleyball team. She ranks third in program history with 2,890 career assists and last weekend recorded her 1,000th career dig. We recently sat down with the business administration major to discuss her important role on the team as both a setter and a senior leader and how she has enjoyed her time on the court as a Triton.
What were your plans for the last summer of your college career?
I tried to make the best out of my last summer and chose to do a study abroad program in Bremen, Germany. It was a fun and exciting experience, making it a summer I will always remember.
What are your expectations for the team this year?
I have high expectations for this year. We have key returners along with new players who can make a big impact right away which gives us a lot of depth. Combine that with everyone's work ethic and there is no doubt that we can be one of the top teams in the GLVC and make it further in the conference tournament. It is also always our goal to make it to the NCAA's.
It looks like you guys have a lot of freshman this year, more than usual. Does this come into play on how you approach your role as a senior?
I always try to lead by example, but having a lot of freshmen makes that job even more important. This way everyone knows what our program expects.
Every position on the court has its own responsibilities, but your position, the setter, seems like it has to be everywhere at once. Can you take us through some of your train of thought throughout a match?
Setters must be mindful throughout the whole match. Setters direct the offense so deciding what hitters should run and who should get the set is a major responsibility. Many things go into this selection including the preferences of the hitter, who is on fire, the block and defense of the other team and if their blockers are cheating towards a certain hitter. I also call free-ball plays so I have to communicate the play to the team so nobody gets confused and we have the best opportunity to get a kill.
Do you have a typical pregame ritual?
My most unusual pregame ritual occurs during the national anthem. I count both the stars and stripes. This started because it prevents my mind from wondering right before the game starts.
In your UMSL career here, what has been your favorite memory so far on the court? What about off the court?
I cannot pick out one game in particular because every win is a great memory. One very memorable game is when Madyson Abeyta came to our game while she was still coming out of anesthesia. From the national anthem to the final whistle there was never a dull moment. Off the court my favorite memory is when Lexi locked herself in a stairwell between two of our games because she went through a "Do not Enter" door. To make things worse she didn't have phone service.
How has being an in-state athlete been for you during your tenure here?
Being an in-state athlete has been nice, and I'm sure my family would agree. My family has sacrificed a lot in order for me to be able to play at the collegiate level, so it means a lot to be close enough where they can come to all of my games. Also some free loads of laundry is a plus.
What do you plan on doing after graduating UMSL?
I really have no idea! I'm considering a thousand different options, so we will see!

Kevin Smith is a UMSL senior majoring in criminology and criminal justice. He's also a pitcher on the UMSL baseball team and an athletics media intern.


Short URL: https://blogs.umsl.edu/news/?p=58889