Student volunteers assist neighboring community during Big Event service project
For 64 University of Missouri–St. Louis students, the first fall weekend of the year meant an intense four hours of manual labor. Lending time and elbow grease to dozens of vacant lots as well as the homes of elderly neighbors in need, the volunteers mowed lawns, removed trash and performed basic maintenance at more than 50 spots in nearby Jennings, Mo., during this year's Big Event.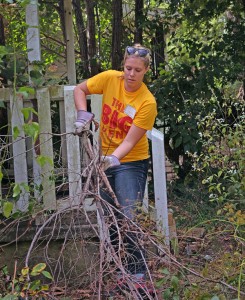 Initiated by UMSL Students of Service in partnership with the Student Government Association and the St. Louis County Police Department which directed the efforts, the Sept. 26 project accomplished a lot in a short amount of time thanks to the sizeable turnout and efficient organization, participants said.
"I've never really volunteered before, but I heard it was a great experience, and now I'm really glad I did," said sophomore Amanda Loellke, who is double-majoring in criminology and criminal justice and psychology. "We got a great group of people out."
She said several residents approached her and fellow students to say how much they appreciated the help. From old tires to couches to mattresses and more, the crews filled two large, commercial-sized dumpsters to the brim.
One group of 12 cleared out an entire garage – filled top to bottom with trash – in about an hour before moving on to another site in need of some care.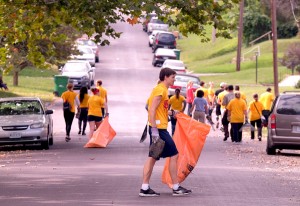 "It's all about giving back to the community," said Nick Garvin, a senior political science and history major, "seeing as UMSL is so close to Jennings."
In addition to the UMSL students and police officers and recruits from the City of Jennings Precinct, a handful of local high school students pitched in, along with several UMSL faculty and staff members.
Jennings Senior High School sophomore David Friend said he opted to join in the effort both to complete some community service hours "and just to help." Kiavonni Monger, a junior at the same school, added that she thinks it's important for her generation to be out serving.
"If others see us doing it," she said, "maybe they'll do it themselves."
The volunteers headed to the UMSL campus and enjoyed lunch following their hard work earlier in the day.
Senior communication major Kristin Wyninegar, chair of UMSL Students of Service, said the campus service organization meets every other Tuesday, and all are welcome. The next meeting is at 2 p.m. Oct. 13 (315 Millennium Student Center). Students can also stay in the loop through the group's TritonSync Portal.
For more photos from The Big Event, see the UMSL Flickr album from the day.



Short URL: https://blogs.umsl.edu/news/?p=59034