Athletics Q&A with senior forward Tyler Collico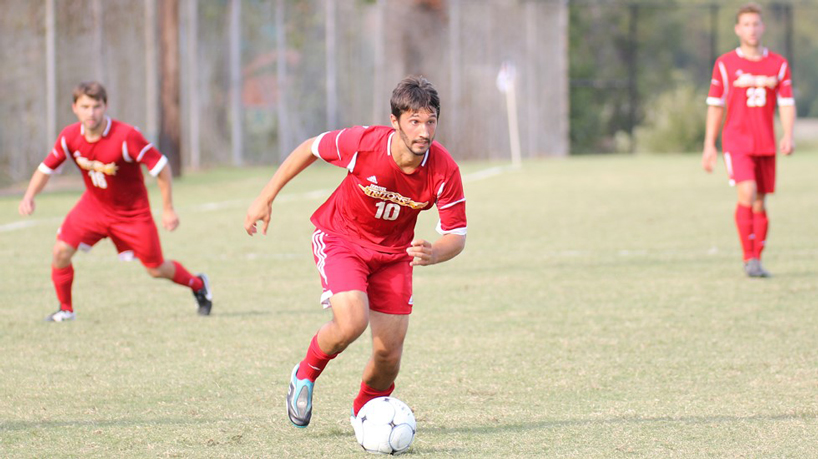 By KEVIN SMITH
Senior forward Tyler Collico of the University of Missouri–St. Louis men's soccer team may be halfway through his final season as a collegiate soccer player, but he still has plenty of goals on the field he'd like to attain. A four-year starter for Head Coach Dan King, Collico, an accounting and business administration major, has scored 17 career goals and recorded nine career assists.
What are you most looking forward to the rest of this season and why?
I'm looking forward to enjoying the rest of my senior year with the team and doing big things in postseason. We made it to the GLVC finals my freshman year, but we have been knocked out the first round the last two years. I know the feeling of being in the championship game, but I want a different result this time.
In your UMSL career thus far, what has been your favorite memory on the field? What about off the field?
My favorite memory on the field would probably be the entire game at Missouri S&T last year. Coach King's mom was in the hospital, so we wanted to get the win for him. We went down twice, but we fought back and won the game, 3-2, in overtime. It felt great to hear coach on the phone after the game and how ecstatic he was that we pulled off the win.
My favorite memory off the field was when I broke my nose in a game my freshman year, and Coach King replayed it in our film session over and over again. It was a little embarrassing, but it was good to have a good laugh with the team.
Do you have a certain pregame ritual? 
Absolutely not. I would describe myself as a very unorthodox player. In high school my coach had us take a psychology test, and I scored the lowest on the team for my mental preparation for the game. I feel like going through a routine puts more pressure on players. I like to go into games with a clear mind and be in a relaxed state.
What responsibilities have you taken upon yourself as a senior to help the younger players on the team?
I feel like I try to be a positive teammate and someone to give encouragement on the field – although off the field I love to joke around with the younger guys. When younger players are having a rough time and not playing their best, I try to get them to settle down and regroup. I know the upperclassmen did that for me as a freshman, and it helped me out tremendously.
You're having a good start to the season, is your team focusing on anything in particular to improve on for the rest of the year? How about as an individual?
Our obvious focus is to stay healthy and fit, but I think we are progressing well as a team. We seem to be working well together, and it should only get better as the year progresses. We just want to hit our peak in the playoffs and hopefully make a deep run in the tournament.
Individually, I want to help out the team any way I can. My job as a forward is to score goals and create chances for teammates, so that's the main thing I would like to improve.
Is there a reason that you chose to wear the number 10?
I have been number 10 ever since I was a little kid. Growing up, my favorite players were Ronaldinho and Zlatan Ibrahimovic. They both wore number 10. Ronaldinho has the skill, and Ibrahimovic has the strength, power, and attitude that make him successful. Ten really isn't a number in soccer. It is more of a mindset to work hard and do whatever it takes to get the result for your team.
What have you enjoyed most about being a student-athlete? What skills will you take into the 'real world' from your experiences?
Being a student-athlete has allowed me to meet a lot of great new people over my four years here at UMSL. I honestly think, besides playing the sport that I love, being surrounded by student-athletes who go through the same things I do on a daily basis helped me be successful on the field and in the classroom. If people have trouble with homework, there are always other student-athletes up after midnight doing the same thing and who are willing to help.
I think the skill I will take into the real world that I learned from being in college is the perfection of the 20-minute nap. Every student-athlete has those days where they didn't sleep because they were up all night doing homework and they only have time to nap for 20 minutes between class and practice. Running on no sleep, and sleeping whenever you get a chance will definitely help put me ahead in the real world. Also, my team and communication skills are highly developed in very intense situations, so I feel like these will be beneficial as well.
What are your plans after graduating from UMSL?
After graduating, I am looking to get a job as an accountant, but I will continue to attend night classes. Hopefully I will complete my master's in two years and pass my CPA exam.

Kevin Smith is a UMSL senior majoring in criminology and criminal justice. He's also a pitcher on the UMSL baseball team and an athletics media intern.


Short URL: https://blogs.umsl.edu/news/?p=59241