National magazine recognizes UMSL for commitment to diversity, inclusion
Deborah Burris is extremely proud of her employer. She is the chief diversity officer of the University of Missouri–St. Louis, which was named a Higher Education Excellence in Diversity (HEED) honoree for a third consecutive year, the longest active streak in the state.
The award is a national honor recognizing U.S. colleges and universities that demonstrate an outstanding commitment to diversity and inclusion. It was bestowed upon UMSL and 91 other recipients by INSIGHT into Diversity, the oldest and largest diversity-focused publication in higher education.
"The diversity and inclusion work that takes place on campus is a reflection of the work of many colleagues and units," said Burris, director of UMSL's Office of Equal Opportunity and Diversity. "And Chancellor Tom George has established diversity and inclusion as an organizational principle and has demonstrated his commitment on many levels internally and externally."
UMSL Daily recently caught up with Burris to discuss UMSL's inclusion and diversity efforts, her role as chief diversity officer and the next steps forward.
Why is it important for UMSL to make inclusion and diversity among its top priorities? 
Diversity and inclusion is necessary in our quest to be a higher education institution noted for excellence. Individuals within our community with diverse backgrounds and experiences enhance the educational experience for students and the professional growth and development of faculty and staff. Diversity in thought and ideas and the discourse that takes place within a university setting has led to the many great discoveries in our world. UMSL maintains an environment that fosters this discourse.
How do UMSL's diversity and inclusion efforts align with its mission when it was founded more than 50 years ago?
Diversity and inclusion have been at the very core of our identity as an institution. In preparing for the UMSL Jubilee celebration in 2013, I discovered that this campus was established – at the height of the civil rights movement in 1963 – to serve the populations that did not have access to local higher education including women, minorities, first-generation college students, veterans, etcetera. We continue to provide that access today.
One of the first things Tom George did as chancellor was institute the Chancellor's Cultural Diversity Council. How has the council impacted UMSL?
The council has made a significant impact on the university's progress concerning diversity and inclusion. First, the council strives to include voices from the diverse populations of the campus community; therefore its membership is diverse on many levels – gender, race, disability status, job classification, students, veterans, etcetera. The council continues to educate its members on issues of diversity through various speakers and presentations on current issues at each meeting. Finally, the council is responsive to the needs of the campus. For example, campus forums were held right after the Ferguson incidents, which provided a safe space to examine complex issues and to engage the campus community in open dialogues.
How do you feel the university has progressed over the years in terms of its diversity and inclusivity?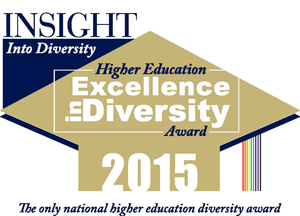 The university has made tremendous progress and continues to explore ways to do better. Diversity is at its highest point today considering the diverse nature of our student body, the courses that have elements of diversity incorporated in them and the agencies and organizations representing diverse populations that we partner with in the community. It is an ongoing process that does not stop. While I am honored and very proud of the HEED Award recognition and the work of my colleagues throughout the campus community, there is still more work to be done. New challenges are presented every day in our communities. The HEED Award provides that opportunity to self-reflect, celebrate and then set new goals to face those new challenges ahead of us and achieve higher heights.
What do you find most rewarding about your role as UMSL's chief diversity officer?
Several things immediately come to mind. First, walking into the Millennium Student Center and observing the interactions among a diverse cross-section of students, faculty and staff in terms of gender, national origin, race, disability status and socioeconomic level. Another is during commencement when I see the graduates and their families. It is very rewarding to be part of an institution that impacts the lives of so many families from different segments of our local and world communities. As a first-generation college graduate, I know how education can positively transform a family and a community. Finally, it's also rewarding when I read about the impact that our graduates are making in the local and world community – Jason Jan, an alumnus originally from Malaysia who created FroYo; Judge Brenda Loftin, an alumna with St. Louis County; and George Paz, an alumnus and CEO of Express Scripts.


Short URL: https://blogs.umsl.edu/news/?p=59588