Women's soccer has 3 earn NSCAA All-Midwest Region honors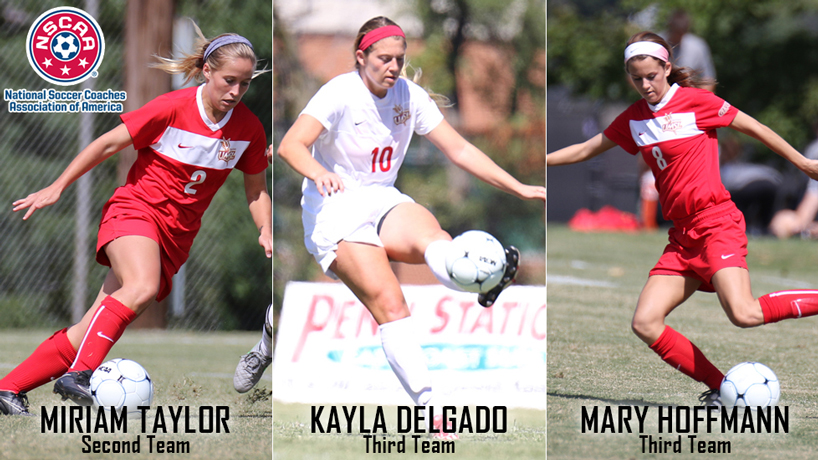 The University of Missouri-St. Louis women's soccer team had three players earn National Soccer Coaches Association Of America (NSCAA) all-region honors. Junior forward Miriam Taylor was a second-team selection, while junior forward Kayla Delgado and senior back Mary Hoffmann were both third-team honorees.
Taylor, a First Team All-GLVC selection, led the Tritons with 11 goals, including four game-winners. The accounting major also had four assists for 26 points. The GLVC Offensive Player of the Week on October 5, Taylor was ninth in GLVC-only games with 14 points (five goals, four assists).
Delgado, a Second Team All-GLVC honoree, owned a team third-best seven goals, including two game-winners, and also finished with three assists. The liberal studies major ranked 12th in GLVC-only games with 2.67 shots per game and owned a shot on goal percentage of .603.
Hoffmann, a Third Team All-GLVC pick, helped the defense to eight shutouts and a goal-against average of 0.82. Offensively, the business administration major recorded three assists.
The trio helped UMSL to a 12-5-4 record under the direction of second-year head coach Wendy Dillinger, including the program's first NCAA Tournament appearance since 1982 and a runner-up finish in the GLVC Championship Tournament. The 12 wins equaled the program's most wins since the 2007 team finished 12-7-3, while the Tritons' 8-3-4 GLVC record equaled the program's most GLVC wins along with the 2000, 2005 and 2006 teams.

Short URL: https://blogs.umsl.edu/news/?p=60672