Area students to explore, encounter, exchange history during National History Day contest
A competition involving more than 400 students and teachers in the St. Louis area will draw a large crowd to the University of Missouri–St. Louis campus this Saturday as the university hosts the free National History Day district contest for the region.
"It gets pretty intense," said contest coordinator Peter Acsay, an associate teaching professor of history at UMSL, who has been involved with the program for over a decade. "It's wonderful to see middle school and high school students engaging in primary source research, weighing evidence, making judgments – doing things that professional historians do."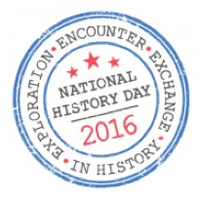 In addition to hundreds of student competitors, nearly 80 volunteer judges from the St. Louis community will be on hand for the Feb. 27 event, which gets going around 9:30 a.m. and is free and open to the public as well as entrants. Composed of librarians, archivists, teachers and others, the judges will keep busy throughout the morning and early afternoon as students present entries ranging from websites and exhibits to documentaries in the Millennium Student Center and Clark Hall.
"Without those many volunteers, it wouldn't work," said Acsay, adding that teaching assistants in the history department and a handful of other UMSL students are also deeply involved in the effort.
This year's participants hail from 16 middle schools and high schools in St. Louis City and Jefferson, St. Charles and St. Louis counties, all aiming to apply the 2016 theme, which is "Exploration, Encounter, Exchange in History."
Having worked on their entries for many months, the local youth are vying for a chance to represent the St. Louis region at the state competition held in April in Columbia, Mo. – and for a special prize in local history, which will be presented by the Missouri Historical Society.
A diverse range of entries will mark the regional contest this weekend, Acsay said, including a performance on the Manhattan Project, an exhibit highlighting the local fur trader Robert Campbell, a documentary on Emmett Till, a paper considering gunpowder, a website on the struggle between Romanovs and Bolsheviks, and much more.
National History Day is the nation's leading program for history education in schools, annually engaging 2 million people in the U.S., Puerto Rico and overseas.

Short URL: https://blogs.umsl.edu/news/?p=61369