Students' marketing efforts lead to a sold-out business conference
The following story was written by Rebecca Merlenbach, a UMSL student pursuing her bachelor's degree in communication.
When the fourth annual Midwest Digital Marketing Conference kicks off at St. Louis Union Station the morning of April 21, more than 1,200 people will be on hand for a day devoted to learning, networking and interactive fun.
That sold-out crowd of students, professionals and industry leaders is partly due to MDMC's enhanced rebranding and marketing efforts, which were spearheaded by two University of Missouri–St. Louis students. Brothers Evan and Jaydn Miguel worked together to create the flier, website, graphics and television commercial promoting the College of Business Administration-sponsored event.
Starting with the theme "Innovation Without Borders," the two played with the traditional "fish out of water" image, which shows a goldfish jumping from one bowl of fish to an empty bowl, as they developed this year's campaign. Jaydn Miguel, who is studying graphic design at UMSL, notes that while the image is often used as a symbol of creative thinking or leadership, the escaped fish is still contained by a fish bowl.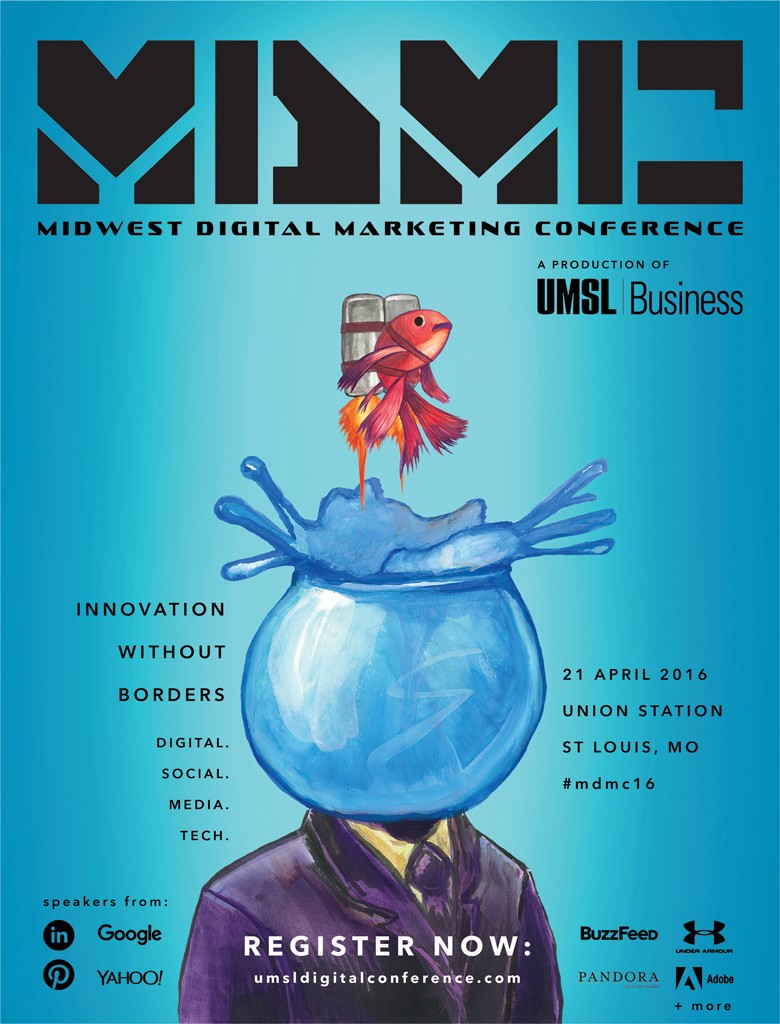 And so the two brothers decided to leave the fish bowl part of the image – in other words, borders and limitations – behind. As a result, their vividly colored MDMC pieces feature a jet-pack-wearing goldfish that has left the fish bowl entirely. Paired with a futuristic new logo, the promotional materials aim to capture the tone of the conference and excite people to attend.
"This isn't a conference where you will just sit around and listen to people talk," says Evan Miguel, a media studies and advertising student who volunteered at the 2015 conference. "It is an event – an activity."
In addition to giving #MDMC16 a boost through their efforts, the Miguels landed a win for themselves at St. Louis' 2016 Addy Awards in February, taking home a student award in the Integrated Brand Identity Campaign category. That came as a big surprise to them, but perhaps it shouldn't have been. Evan Miguel has won several other awards during his time at UMSL and seems to make the most of hands-on learning experiences.
"Whether you are a student or a professional, you have to put yourself out there to be noticed," he says. "At a certain point you just have to do it. Make yourself uncomfortable. Make it a habit to make yourself uncomfortable by pushing your limits. Never stop learning."
While MDMC is sold out this year, the Miguels suggest that it's not to early to begin thinking ahead to 2017. All about innovation and creativity in the digital marketing world, the conference features a light show, interactive technology, food trucks, live music, a startup competition and more. To learn more, see www.umsldigitalconference.com.

Short URL: https://blogs.umsl.edu/news/?p=61965