UMSL Greek Studies professor featured on PBS, National Geographic documentary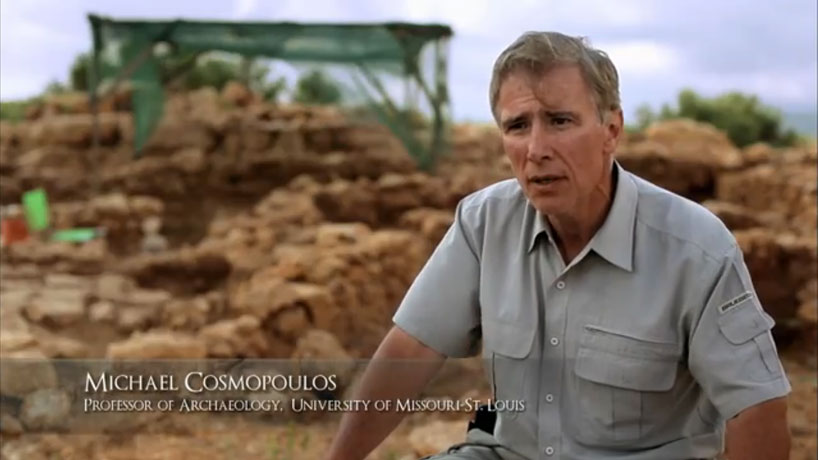 Public Broadcasting Service and National Geographic recently called on the expertise of University of Missouri–St. Louis Professor of Archaeology Michael Cosmopoulos for a three-episode documentary titled "The Greeks."
Tracing Greek culture from its very beginning to present day, the documentary captures the birth of an ancient empire, science and democracy – all while exploring Greek ideology and cultural persistence through the Dark Ages as well as the country's current economic decline.
Cosmopoulos, featured in each episode, talks about the Greeks' population of the Mediterranean and their cultural pride. But episode one prominently features the UMSL team's excavation in Iklaina and their discovery of the oldest known writing in Europe – the Iklaina tablet. The discovery holds great importance, suggesting that Mycenaeans practiced writing not only in large cities, like Pilos, but also in small towns, like Iklaina. That means commoners wrote as well.
Cosmopoulos' commentary stands alongside professors, archaeologists and historians from numerous prestigious institutions across the globe, including Harvard University, University of Oxford and Stanford University. Even Neil deGrasse Tyson appears, offering his views on ancient Greek philosophers and their push towards scientific deciphering of their surroundings.
UMSL's Greek Studies Program, established by Cosmopoulos, recently celebrated 20 years of success. Through the program, Cosmopoulos offers his students hands-on excavating experience in Greece, enabling them to learn about the country and its people firsthand as they dig through the very dirt the ancient Greeks walked on.
Episode one aired on St. Louis' local PBS affiliate KETC/The Nine Network (Channel 9) June 21, with numbers two and three following on June 28 and July 3. To view episodes one and two online, click here. Episode three will be posted online at a later date.
UPDATE: The President of the Republic Prokopis Pavlopoulos visited Cosmopoulos at the Iklaina excavation site only a few days after the publication of this story and the airing of PBS's third episode of "The Greeks," which is now available online for viewing here. To read more about President Pavlopoulos' visit click here.

Short URL: https://blogs.umsl.edu/news/?p=62984