Summer gun violence spurs UMSL criminologists on local, national media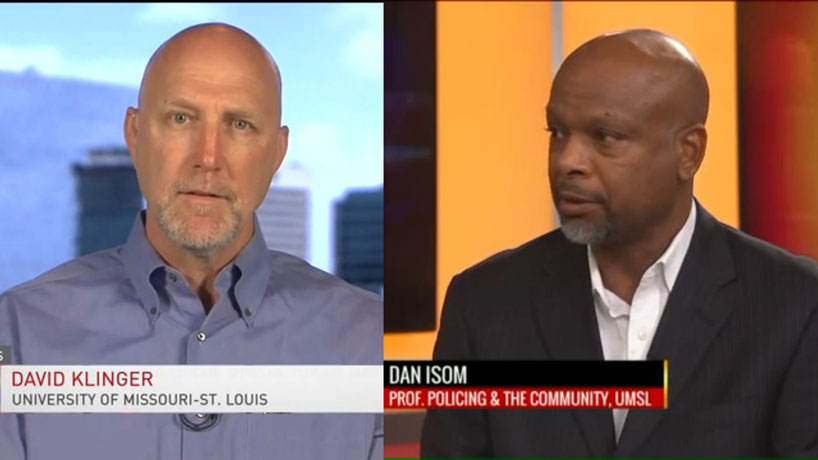 In the wake of a summer shooting spree, local and national media have turned to the criminologists of the University of Missouri–St. Louis to make sense of the tragedies and how communities and policing have arrived at these violent times.
Both the Department of Criminology and Criminal Justice's Dan Isom, retired Chief of Police for the City of St. Louis, and David Klinger, a former Los Angeles police officer involved in a fatal officer shooting, have been called on heavily in the past couple of weeks to offer their insight.
St. Louis Public Radio's Don Marsh sat down with both Isom and Klinger for an in-depth interview on "St. Louis on the Air" last Wednesday to discuss use of force, police investigations and the demands on limited resources.
"It's time to re-examine not only what we do to help people in crisis but people who are in poor communities to deal with some of their issues," Isom told Marsh. "But also, how much resources do we need to put into policing to be able to achieve a safer community? Often times we don't have enough officers in these communities to deal with these issues. We don't spend enough time and money training officers, whether it be in the academy, continuing education training…all of these things need to be examined so we have the necessary resources so people have a better quality of life."
Klinger also shed some light from the police angle on decision-making to pull the trigger, stressing that "cops don't want to shoot people."
"I've interviewed about 300 police officers from around the country who have been involved in shootings, and almost invariably they have been involved in other situations where they had lawful warrant without a doubt to shoot and they held their fire," Klinger said. "The great, untold story of American policing is how restrained police officers are."
Klinger and Isom have also been addressing the role social media and video play in policing and live reporting from scenes.
"One of the things that's frustrating to me is that there are still some police agencies out there that don't understand that citizens have an absolute lawful right to go ahead and video and audio record them when they're in public space," Klinger said in a PBS NewsHour panel discussion.
Isom expressed the need for a proactive approach to the social media dimension of policing in a KTVI (Channel 2) interview.
"It's very important today that police departments, communities, especially governments have a social media strategy," Isom told FOX 2 morning news anchors John Pertzborn and Randi Naughton. "You have to be linked into what is happening in social media and be able to respond in a way that young people and people are responding to today. Can you be transparent and give people information about what's happening, the ongoing investigation – those are things you have to do today and if you don't get in front of it, the narrative, the message is going to spiral out of control."
Perhaps the biggest question that members of the media have been asking Klinger and Isom is how do we address this violence and bring about real change.
Klinger suggested on "St. Louis on the Air" that police not be the response point for all situations, especially those involving mental-health episodes.
"What happens too many times is that police get there and the police are a lead entity, and the person behaves in a fashion that's threatening, and police are trained to protect themselves and others on the scene…it might devolve to a use-of-force situation or a shooting. There's an example of the way our society needs to think holistically about how to get services to people in crisis."
On Fox 2, Isom discussed his belief in an old police philosophy that could be helpful – "The people are the police, the police are the people."
"It's an important philosophy and one which we need to try and get back to here in America," Isom said. "Of course the events of the last week or so have shown us that we've got a lot of work to do in terms of bringing the police and the community together" – a responsibility Isom said lies first with the police.
"It's our profession. It's our job to make that connection," he said. "But we also have to realize that the community plays a role in it as well. It's a two-way relationship. Both have to come to the realization that to reduce crime and make us all safe, it's a partnership."
"I hope and pray that we are able to move past these divisions and get to some real solutions," Isom said.
To hear the full St. Louis Public Radio segment and watch the PBS NewsHour and FOX 2 discussions, follow the links below.
St. Louis Public Radio: After the shootings in Baton Rouge, St. Paul and Dallas, a St. Louis law enforcement perspective
PBS NewsHour: Calling out for help by capturing police shootings on camera
KTVI/Fox 2: Retired police chief talks last week's tragedies

Short URL: https://blogs.umsl.edu/news/?p=63096