Welcome home: Campus volunteers assist new students, ease nerves on Move-In Day
By Steve Walentik and Evie Hemphill
The wave of luggage, laundry baskets and other assorted carriers was just starting to flow into Oak Hall when Gauri Babu and her family added her belongings to it on Friday morning during Move-In Day at the University of Missouri–St. Louis.
Babu admitted to having some apprehension when they first drove onto campus.
"I was somewhat nervous, anxious, if you can't tell," she said.
But most of those feelings had already started to subside within an hour of beginning to unpack, with the assistance of Campus Life staff and volunteers.
"Everyone's being really helpful," Babu said. "We managed to get things done really quickly – just finished moving in all my stuff and [getting] pretty much just ready to start the day."
Jonathan Lidgus, director of the Office of Residential Life and Housing, said that's why he and his staff work so hard to create a welcoming environment.
"For a lot of these students, it's their first experience here besides orientation, and everybody's nervous — parents are nervous, students are nervous," Lidgus said. "Seeing the volunteers smile, seeing our staff smile really welcomes them home and makes them feel much better."
Starting at UMSL really is a homecoming for Babu, who was born in the St. Louis area but has been living in India for about 10 years. She made annual vacation trips to St. Louis while residing permanently in the state of Kerala, in the southwestern part of the country.
Babu has known for a while she wanted to return to the United States at some point during her schooling and decided last fall she would attend college here instead of India. Her brother, Giridhar, is also a UMSL student.
"We decided we really like the atmosphere here at UMSL," said Babu, who plans to study anthropology. "It seems really open, really diverse and just almost personal in a way. Like you could really feel comfortable here."
On another floor of Oak Hall, the parents of 17-year-old freshman Naomi Leach kept busy helping turn their daughter's new room into her home away from home. Originally from Iowa, the early childhood education major has lived in nearby St. Peters, Missouri, for the past three years.
"I didn't want to be too far away," Leach said of her decision to attend UMSL and live on campus. "If I need something, they will still be here."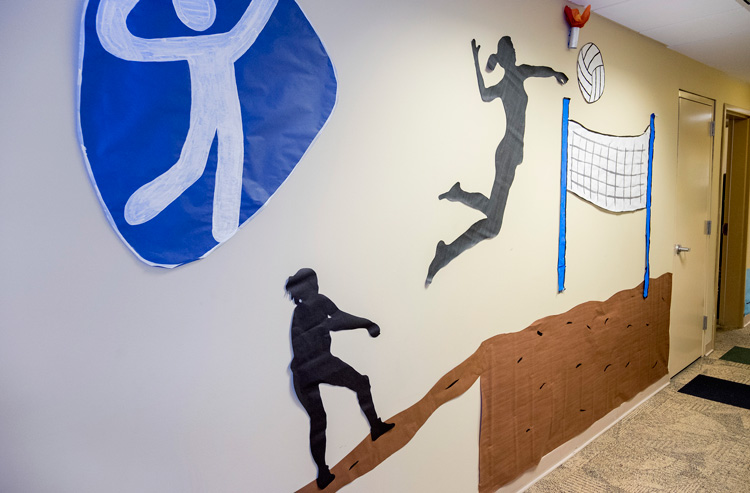 First attracted to UMSL because of the College of Education's program offerings, Leach has also been struck by the welcoming atmosphere since setting foot on campus.
"My first impression was that everyone was super nice," she said.
Among the crowd of volunteers Friday morning was senior finance major Sean Springer, who said his fraternity is big on service and signs up each year to lend a hand.
"We like to help the freshmen move in and get them invited into various organizations and things like that," Springer said.
Lidgus described the morning as his favorite day of the year – and an important one.
"It's the beginning of a community, so every year we get to build a brand new community of Tritons and really establish friendships that last an extremely long time," he said. "I cannot thank the university volunteers enough for their help here. If it wasn't for them, it would take twice as long. And the parents love it."
Hailing from Springfield, Missouri, freshman Zach Tullock was glad for the help he received from fellow UMSL students while transporting belongings up to his room on the fourth floor. The biochemistry major first toured UMSL in the spring, and after seeing the campus, he was ready to make a decision.
"The new science building was a big selling point," Tullock said.
By mid-morning, UMSL's 2016-17 academic year appeared to be off to a strong start. The bustle of Move-In Day also set in motion Triton Take-Off, a preview weekend chock full of events for new UMSL students.


Short URL: https://blogs.umsl.edu/news/?p=63417