Athletics Q&A with senior defender Evan Garrad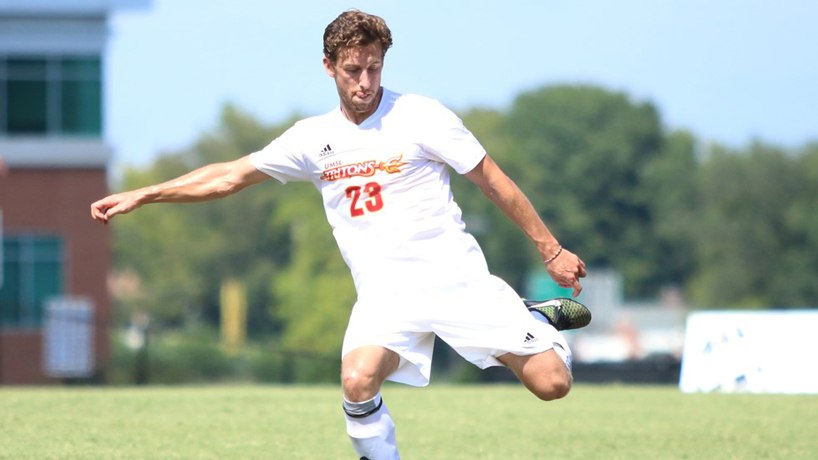 Senior Evan Garrad has been a four-year mainstay in the backfield for the University of Missouri–St. Louis men's soccer team, helping the Tritons to four shutouts this season. Off the field, he serves as Student-Athlete Advisory Committee president and is a biochemistry/biotechnology major on a pre-med track.
How long have you been playing soccer, and how did you get involved with the sport?
I have been playing soccer since I was 5 years old. My father, who is from England, loved the game and instilled a passion in me at a young age. Growing up, weekends were always consumed with watching or playing soccer. Both of my older sisters played as well, so it was always a family game.
How would you describe yourself on the soccer field? Your strengths? What you try to do?
I try to keep it simple on the soccer field and try not to force things. I think one of my strengths is I "read" the game well. As a defender it is very important to never take a play off, so I try to stay extremely focused on organizing the players around me and staying alert defensively. I also love to get forward if the opportunity presents itself and I can add something to the attack.
You've been a four-year starter at UMSL. How would you summarize your playing career here, and what has been your favorite memory?
I have been very pleased with my soccer career at UMSL. I am very fortunate to have coaches and teammates that love the game of soccer but also have a great competitive edge. Our program has a foundation of hard work and defending well, which I have really tried to embrace. My favorite memory was when we beat Drury my freshman year. It was a Friday night, they were ranked No. 4 in the country, and we won 2-1. I am also from Springfield, Missouri, so beating a hometown team felt even better.
Is there a reason that you chose to wear the number 23?
I was given the number by chance when I was playing youth soccer. But of course, it is a number with some fame and history, so I developed an attachment to it. When I think about the soccer players that typically wear number 23, I believe I fit that stereotype.
What are you looking forward to the rest of this season?
I look forward to each weekend we get to play. This is my last season playing competitive soccer, and I want to enjoy every moment. Our first goal as a team is to make the GLVC tournament. We just need to focus on the next game, try our best, and we will be successful.
You are also president of the Student-Athlete Advisory Committee. Tell us about your role with that group and some of things you are trying to change and implement this year.
SAAC is an organization comprised of student-athletes that have been chosen by their coaches or peers to represent their respective athletic team. As a group, we serve as the liaison between student-athletes and the athletic department. Our primary goal is to enhance the student-athlete experience. This year we are trying to implement more alternative events while still encouraging athletes to get involved in the community and support each other. We hope the creation of the Triton Cup and the Triton App, which rewards student-athletes who engage in these areas, will help achieve our goal. My role as president entails collaborating closely with the athletic department staff, volunteer organizations and members of our campus. I lead our meetings and focus groups and try to communicate the student-athlete interests to the community and campus.
What is your major, and what do you want to do with it?
I am a biochemistry/biotechnology major on a pre-med track. My degree will hopefully prepare me for medical school with the eventual goal of becoming a physician. However, I would like to use my science background to explore areas such as medical research and public health education. My involvement in the St. Louis community and the month I spent in Peru this past summer on a medical volunteer trip have created an even larger enthusiasm to provide care for underserved populations. In the future, I would like to have a community clinic outside of my primary job or a partnership with an international health organization that sends physicians to serve in foreign countries. I do not know what specialty of medicine I would choose at this moment, but I have really enjoyed shadowing surgeons.
What are your plans after graduation from UMSL?
After I graduate in May, I will apply to medical school and work in a local hospital to gain more patient-care experience.


Short URL: https://blogs.umsl.edu/news/?p=64712