Graphic design majors wow crowd with ambitious senior theses
"Isn't graphic design just making art on a computer?" No, not quite.
But that's a frequent question Brett Kessinger gets asked – and part of the inspiration for the project he shared earlier this spring during a standing-room-only event at the Blanche M. Touhill Performing Arts Center.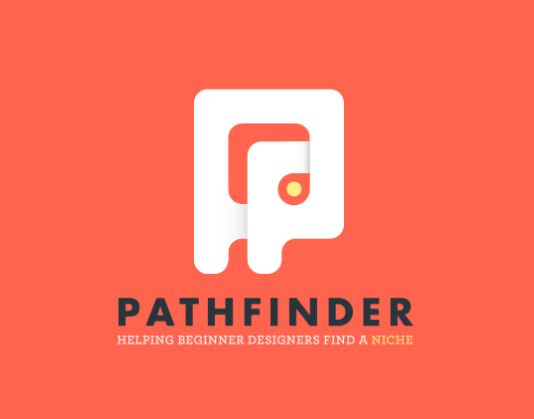 One of 11 University of Missouri–St. Louis students in the spotlight that evening, Kessinger was the first to take the stage during the 2017 UMSL Graphic Design Senior Thesis Presentations.
"A lot of beginners have no clue what they're doing and why they're doing it," Kessinger said to the audience as he discussed the goals of Pathfinder, an online resource he's developed to help young graphic designers find their niche. In fact, it's something he wishes had been available when he was first starting out.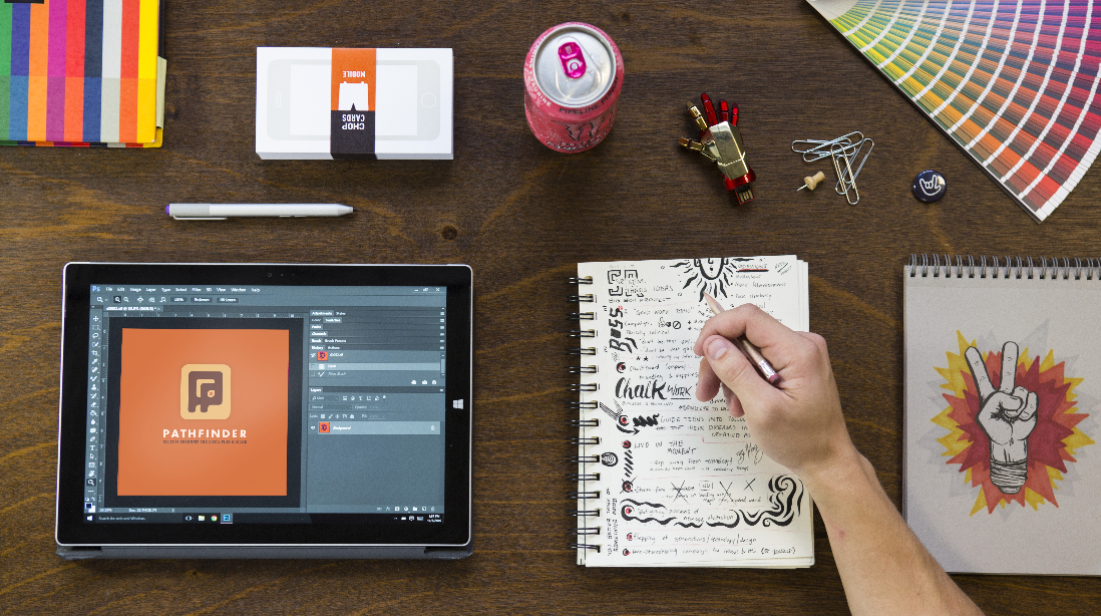 Kessinger touched on his own journey "from doodler to designer" over the course of his presentation, setting the perfect tone for a night that showcased the major strides he and his classmates have made in recent months and years while delving deep into their chosen field.
"This year's presentations were outstanding," Gretchen Schisla, professor of graphic design, said afterward. "Students brought their amazing topics to life through print, web and app design, motion, video and animation – plus social media."
She and fellow faculty member Jennifer McKnight worked closely with the cohort of soon-to-be UMSL graduates over the past year as each student brought a senior thesis to fruition. The March 24 event marked the culmination of many ambitious efforts, with the projects ranging from extensive websites and awareness campaigns, to educational programming, to furniture.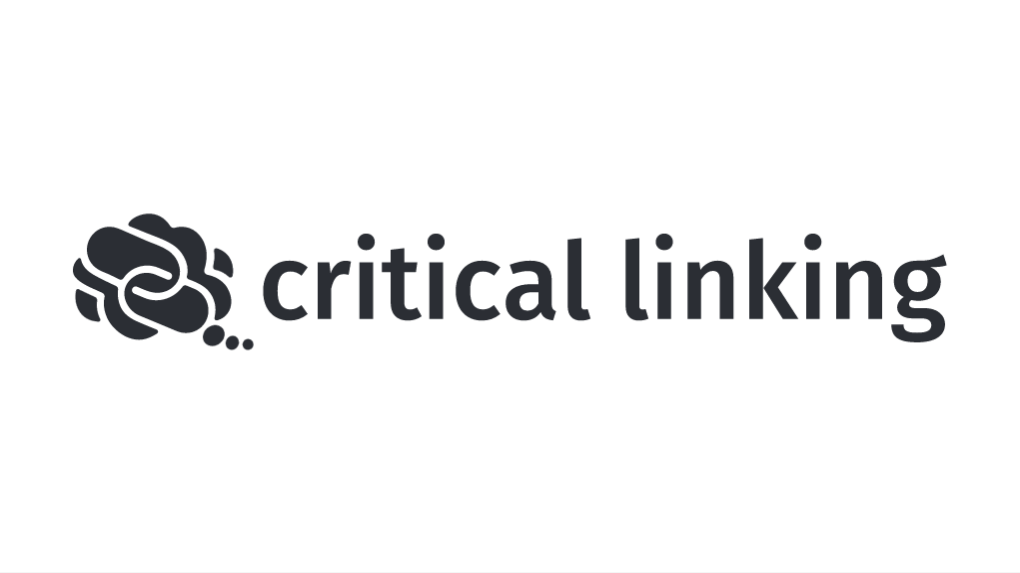 The depth and variety speak to the wide-ranging knowledge and problem-solving abilities these students bring to the marketplace, Schisla added.
"UMSL graphic design majors are highly regarded and sought after by agencies," she said, "because of their broad skill sets, talent and motivation."
Following Kessinger's presentation was one by Katlyn Sansone, whose project is titled Critical Linking. It puts a focus on internet literacy and aims to help people be more responsible online when it comes to sharing information.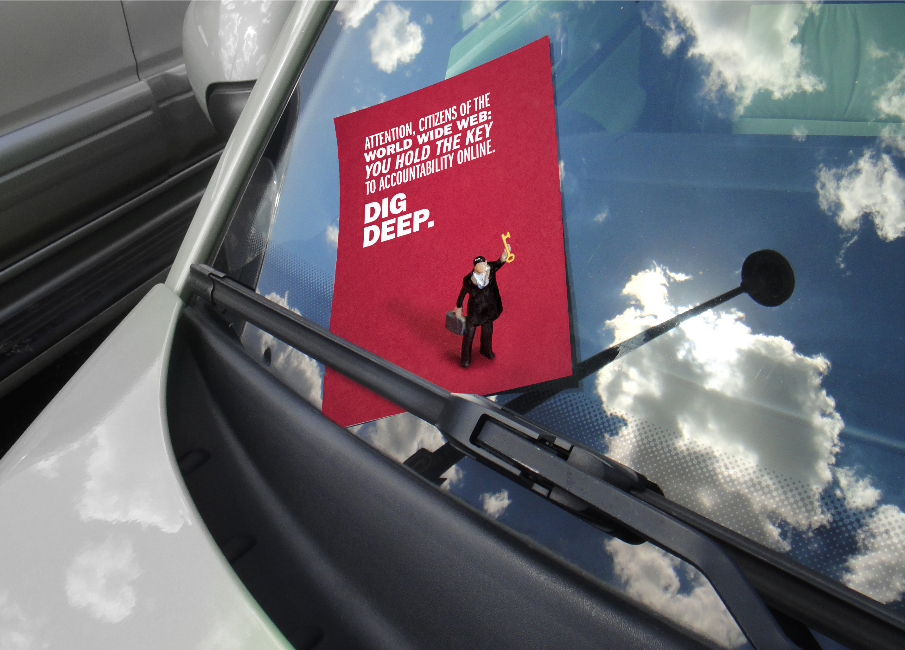 Sansone's talk drew a lot of audience questions as well as some sighs and laughter concerning a topic that seems particularly relevant and timely. Along with the Critical Linking website, Sansone showed off examples of printed materials she's developed as part of her campaign, including something that looks similar to a religious tract.
"Instead of offering you salvation, [these tracts] prompt you to think before sharing," Sansone said. "If everyone makes a small effort, our online homes become a nicer, more accurate place to live."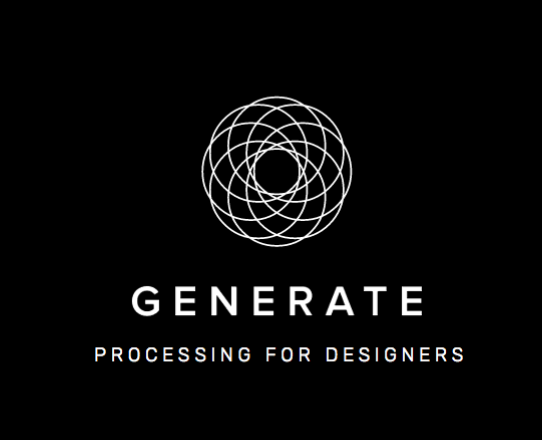 Next up was Brian Reller, who taught himself processing, an open-source computer programming language, by doing countless online tutorials this past year as part of his project, Generate. As his website explains, Generate is a platform "to help introduce graphic designers to the processing language" and highlight ways in which processing can inform the graphic design field.
"Data can be beautiful," Reller told those gathered at the Lee Theater. "And designers can reveal the beauty of processing."
Reller's site includes resources for others interested in learning processing as well as striking examples of the visuals he was able to create using processing himself.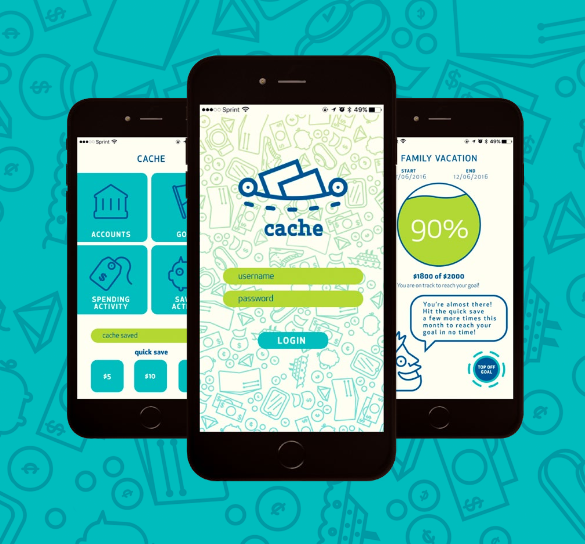 Dustin Sinasky's presentation provided an in-depth preview of Cache, a prototype of a savings-focused app that would fill what Sinasky sees as a gap that other programs, such as Mint, have failed to address for users.
"I realized that saving needed to be gamified," said Sinasky.
Inspired by his frugal grandfather who paid for most everything in cash, Sinasky went about developing a fun approach to budgeting, creating money-saving challenges and game-like rewards for would-be users of Cache.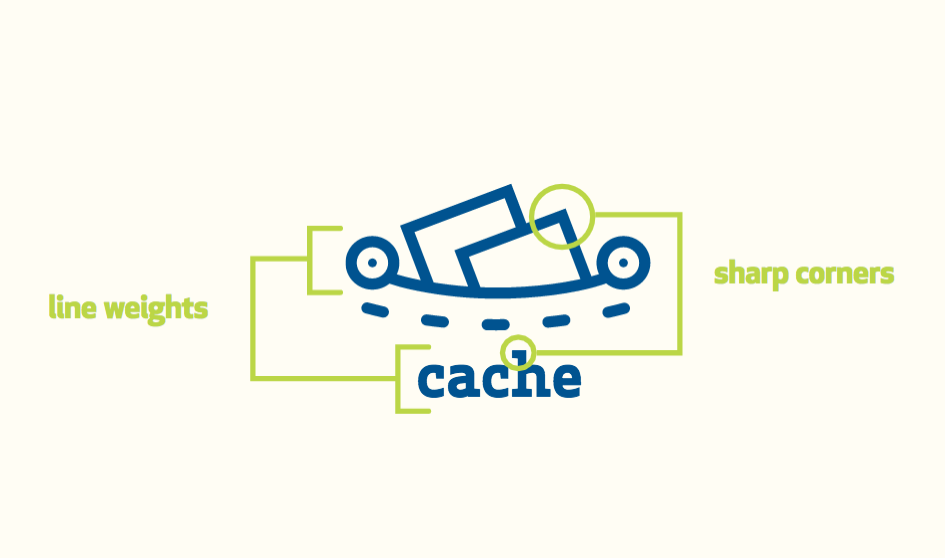 Along with several of his classmates, Sinasky offered audience members a fascinating look at the many steps that go into designing a logo and coming up with a name for a particular product or effort.
Lauren Talavera's thesis went in a different direction. Her Peer to Peer project sets forth all the elements of a sweeping campaign focused on preventing sexual violence and assault on college and high school campuses.
Having experienced a situation where a friend intervened and helped a potentially bad scenario not become one, Talavera said the topic is important to her on a personal level.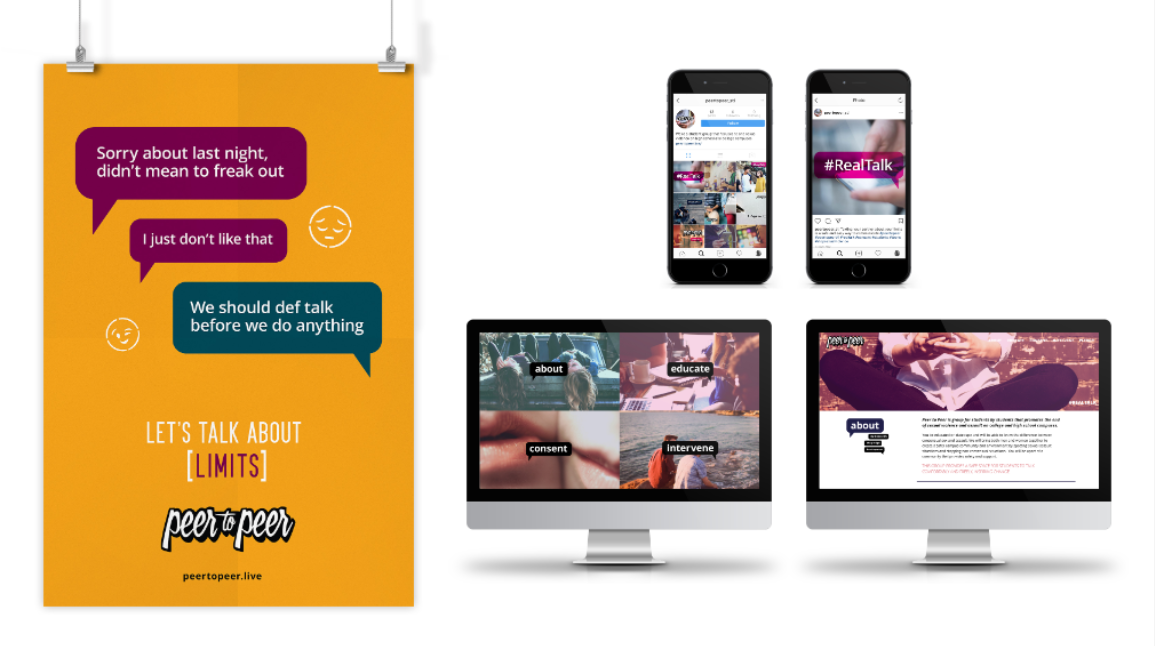 "It scares me to think what could have happened if someone hadn't intervened," Talavera said during her presentation.
She's also convinced that student involvement and awareness surrounding date rape, assault, consensual sex and related topics must be at the center of prevention efforts. With that in mind, Talavera's campaign includes a student-ambassador toolkit, social-media-friendly memes and hashtags and an overall site design geared to engage young people in conversation.
Following Talavera was Matthew Marchini, whose proof of concept was in fact an actual, three-dimensional object on display at the Touhill that night: a work desk.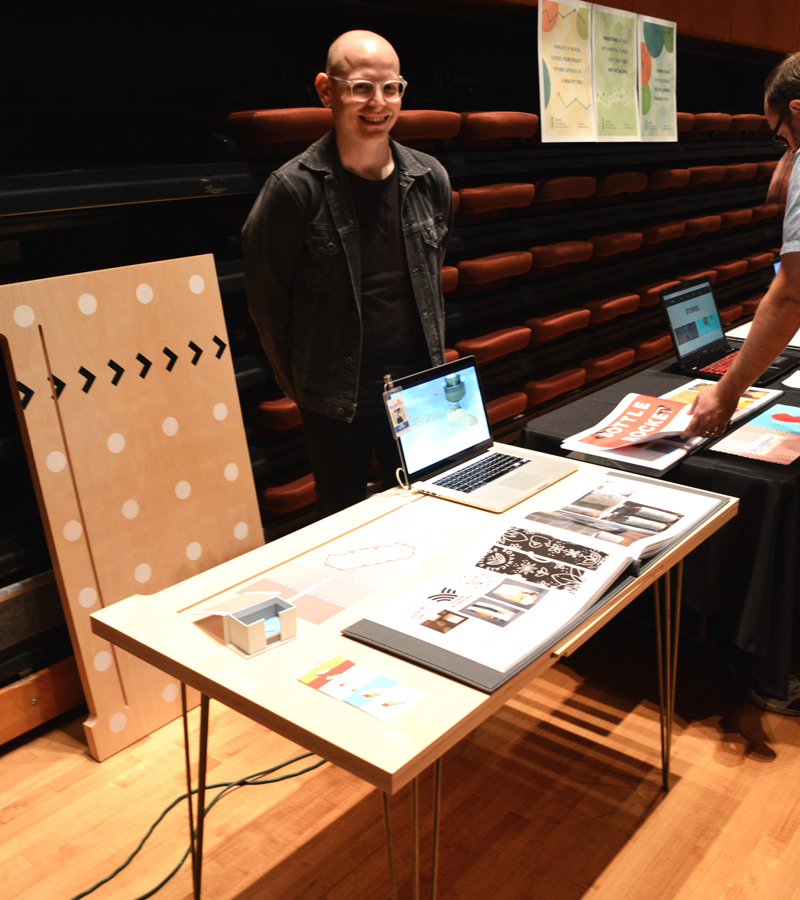 Marchini developed his plans and prototypes at TechShop St. Louis, a local workshop packed with tools to help him bring an innovative design concept to fruition. He then created a brand – STATION Raw Furnishing – and sold several of the desks to sample customers, all of whom were thrilled with their new, affordable, beautifully designed piece.
While Marchini said he has no immediate plans to open a furniture business after graduation, he relished the opportunity to take his idea through all the processes required to bring a concrete product to market.
Graphic designers are frequently creating, and they "regularly get to take an idea and bring it into reality," but this one was particularly gratifying, he added.
Carley Fite's project attempted to answer a question she asked months ago: How could she motivate people to venture into new parks in the St. Louis region? Meander is the result of her musings and research.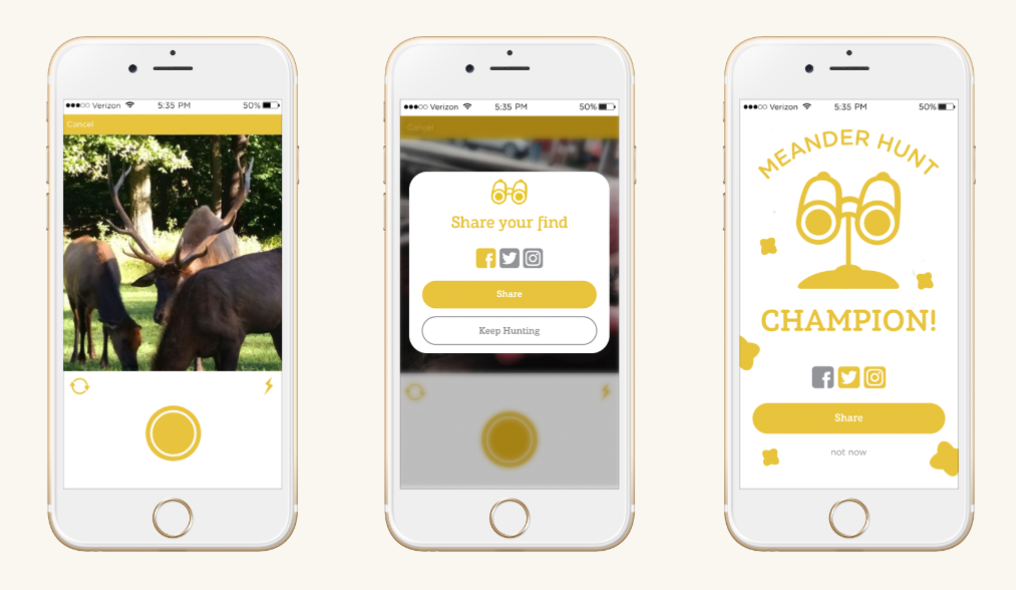 The proof-of-concept app offers people not just suggestions of new trails and parks within reach but also maps and directions, helpful descriptions and new ways to explore.
Users are encouraged to go for a "meander hunt," taking photos of various nature "finds" and sharing them on social media. Fite's video provides a preview of how it would all work.
"Tell us a story," Sky Goodman's new website urges the viewer. Titled Sparks, Goodman's project takes the form of an online periodical that showcases animated stories – stories everyone is invited to share and submit.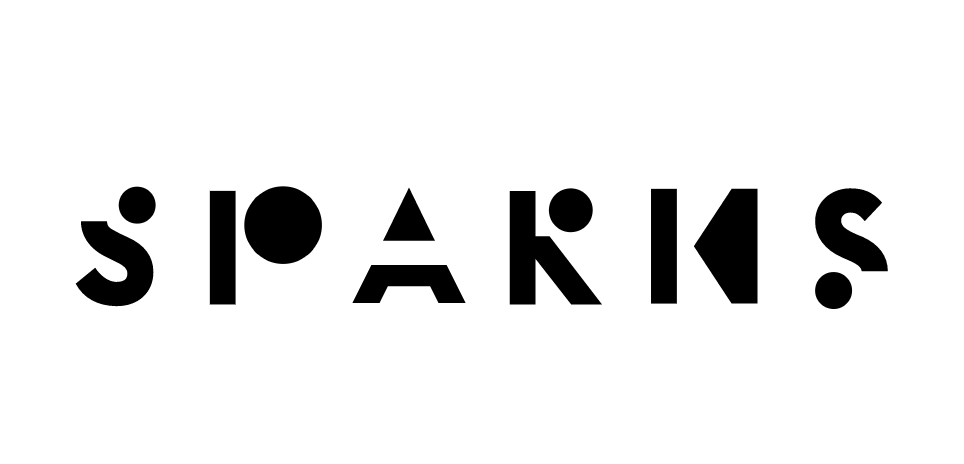 During his presentation, Goodman showed two such finished stories, including "Outside" by Amber Dixon and his own "Memories of Loss."
He also discussed the storyboards and many other steps involved, along with the design that went into the website and the Sparks logo, which is a combination of simple and complex shapes.
For Kenna Mangan, settling on her finished Mental Morphosis name and logo was an extensive process. "Nourished Noodle" was a close runner-up.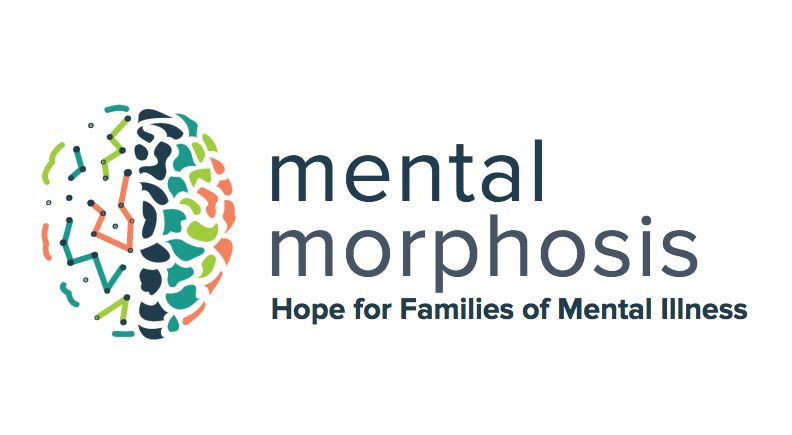 As Mangan showcased her new online resource for parents whose children struggle with mental illness before the crowd at the Touhill, she also shared her own connection to the topic and her desire, as a parent, to help create a network of support.
"My objective was to find a friendly approach to discussing the topic," Mangan said.
Along with offering information and hope for families with mental illness via the website, Mangan recently put on a free public event at her children's school to help connect local parents as part of her project. She even screenprinted tote bags with the Mental Morphosis logo for attendees to take home.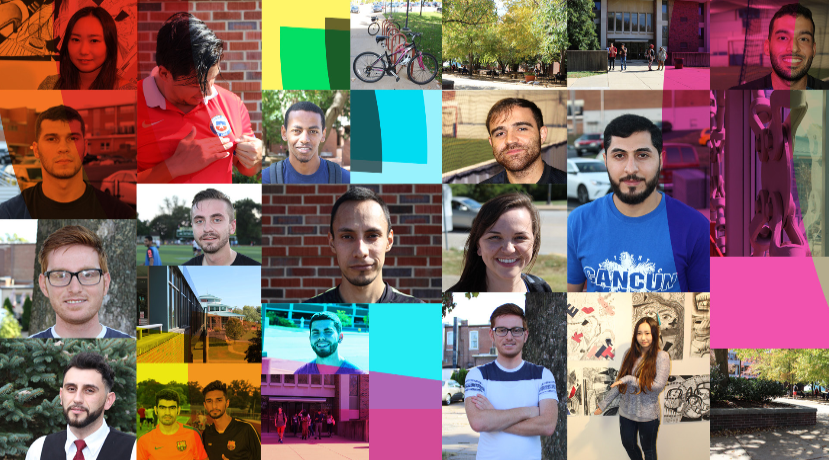 Emiljo Zhupani's presentation featured a combination of bright colors as well as black-and-white portraits – all part of his new online community for third culture kids, individuals who grow up mostly in a culture other than that of their parents.
Calling his website simply Third Culture, Zhupani's project had him out and about engaging with others in the local community as he sought to learn more about some of the challenges and experiences third culture kids face.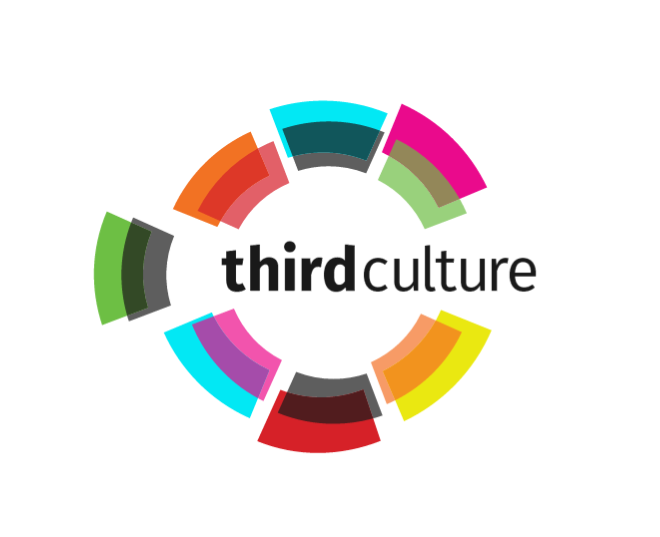 "Being a third culture kid myself was a starting point, but I needed to do more research," said Zhupani, who moved to the U.S. from Albania at age 11.
As part of that further exploration, he interviewed and photographed fellow third culture kids over the course of his project, and their stories and portraits became a centerpiece of the new site.
Closing out the thesis presentations was Matthew Washausen, whose community-driven project put him among a group of high school students for several intensive weeks – and also required countless hours inside UMSL's printmaking studio.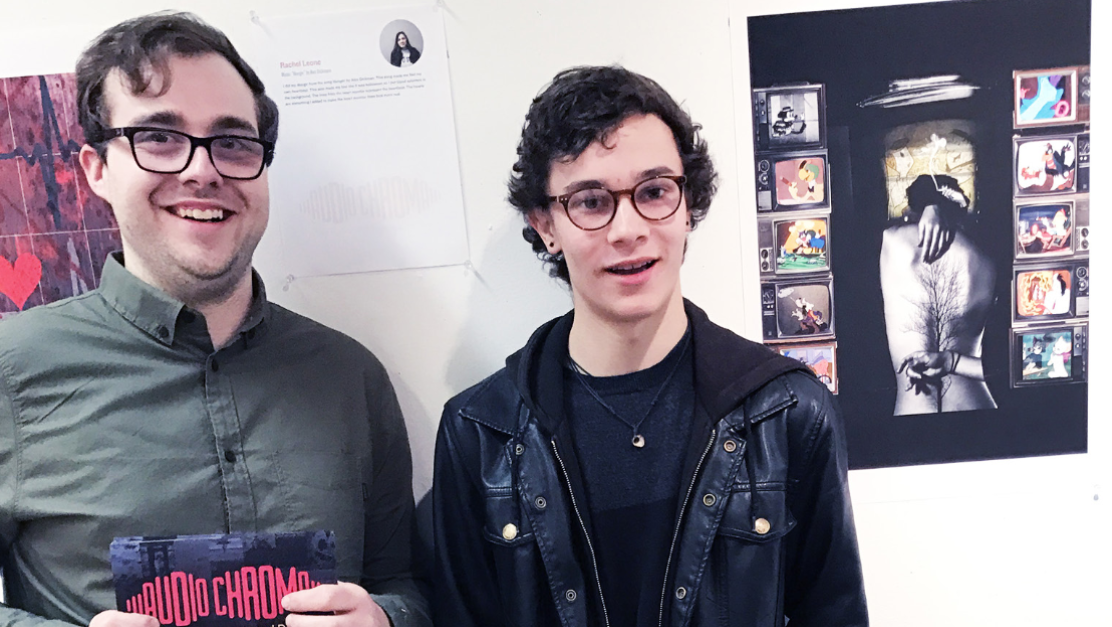 Conducting a series of lessons last fall with young artists at Grand Center Arts Academy in St. Louis, Washausen guided them through a unique project that combined both musical and visual art.
As several local artists visited the GCAA classroom to perform original songs for the students, Washausen asked the students to express in words and images their individual responses to the music.
Then, after the young people finished their wide-ranging poster designs, Washausen pulled them all together for an art exhibition that took place in December at UMSL's Gallery FAB – titled Audio Chroma: The Power of Music and Design.
For UMSL professors McKnight and Schisla, the presentation night was a special treat that embodied many great things about the field of graphic design.
"The projects are all very different, but they have the same result," Schisla said. "They are about each of us making human connections, helping others to learn, explore and become more involved. Graphic design makes all these connections possible – that's why we love what we do."


Short URL: https://blogs.umsl.edu/news/?p=67520