Students cheer Blues to victory at UMSL Night on the Ice
University of Missouri–St. Louis students traded their school colors for blue as they cheered on the St. Louis Blues to a 3-0 victory over the Ottawa Senators Tuesday night on the first-ever UMSL Night on the Ice.
The event was the creation of the New Student Programs and came at the end of the weeks-long Triton Spring Launch.
"In the past, New Student Programs has been one of the hosts of the UMSL Night at the Ballpark, and we were wanting to have another featured event in the spring semester as we have in the fall semester," said Erin Sullivan, coordinator for New Student Programs. "We had all these various events to create excitement for returning students, new students, transfer students, commuter students, staff and faculty. We reached out to the St. Louis Blues to see what they could do for us and what options they could provide."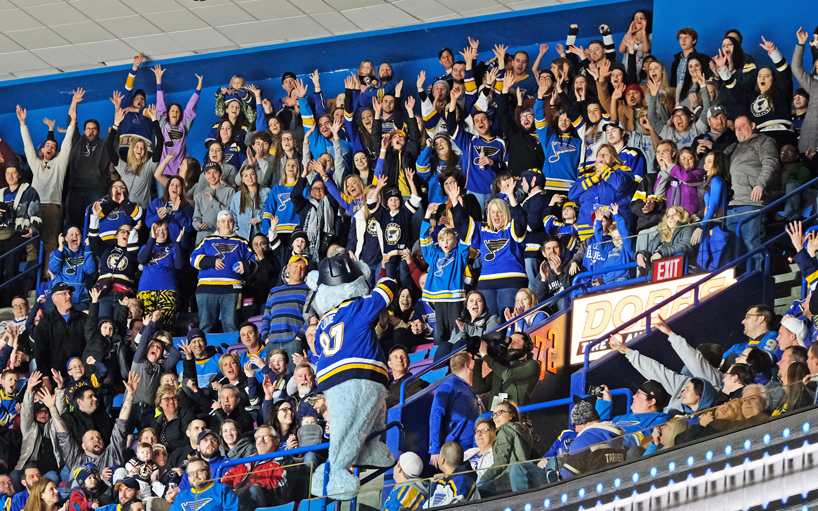 Blues mascot Louie interacts with the UMSL contingent at the Scottrade Center in downtown St. Louis. The group had 90 tickets in section 332 of the arena. Each ticket sold for $25, and those who purchased received a Blues-themed UMSL T-shirt.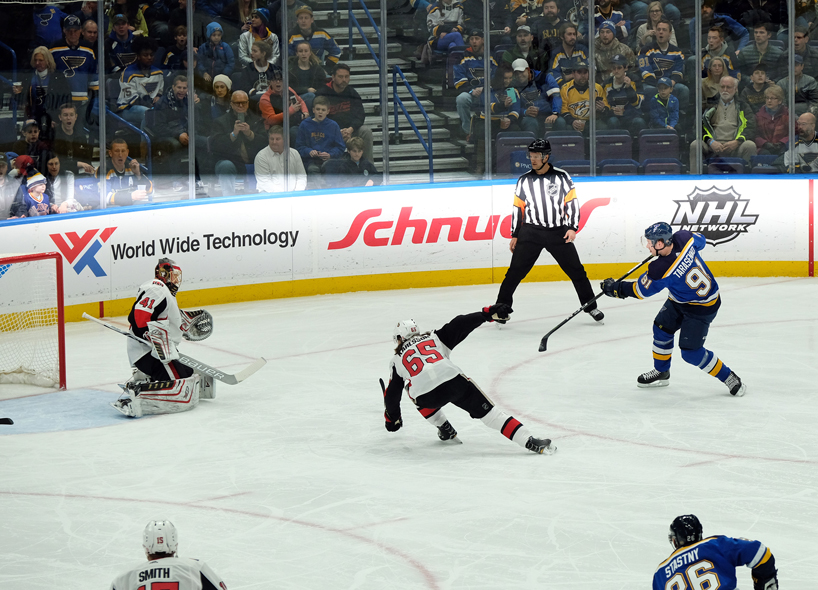 Blues forward Vladimir Tarasenko (91) fires a shot wide of Senators goaltender Craig Anderson. Tarasenko scored a third-period goal, his 21st of the season.
UMSL student Alicia Marshall gets a ride on the Zamboni in between the first and second period. Marshall, a junior from Festus, Missouri, majoring in business administration, had her seat number selected in a drawing that determined the UMSL Student of the Game. The prize was the ride around the ice.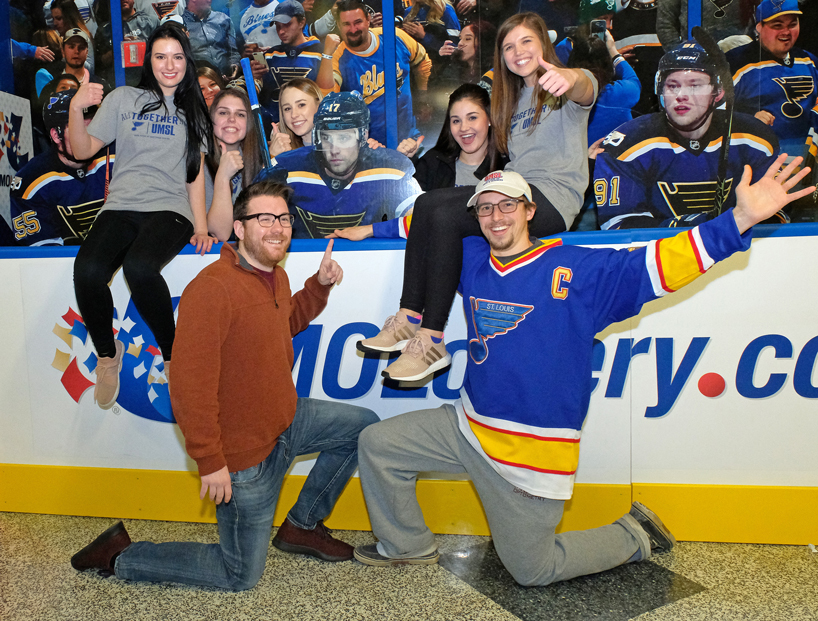 UMSL Optometry students (on bench, from left) Salmedina Alic, Lauren Dermody, Marisa Fehlhafer, Libby Marquart and Carli Hays and (in front, from left) Quinn Gallen and Calvin Daack pose at the Blues "bench" in the concourse at the Scottrade Center.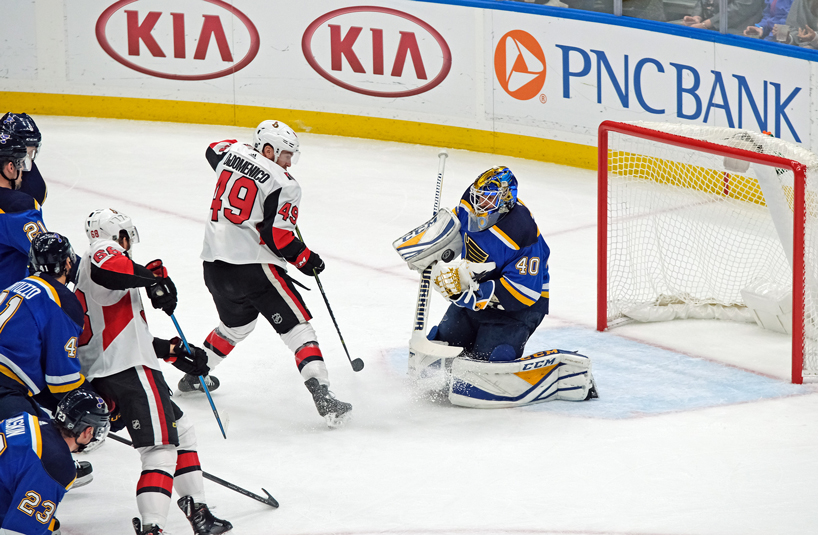 Blues goaltender Carter Hutton makes one of his 25 saves on a shot from Christopher DiDomenico. Hutton recorded his second shutout of the season and improved to 11-4-1.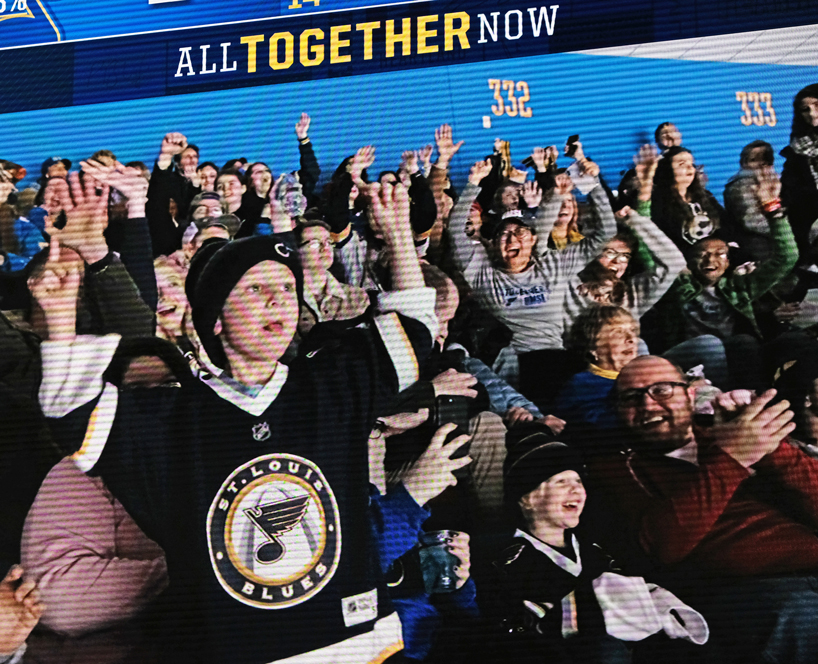 UMSL students react in the background when they see themselves on the videoboard at the Scottrade Center.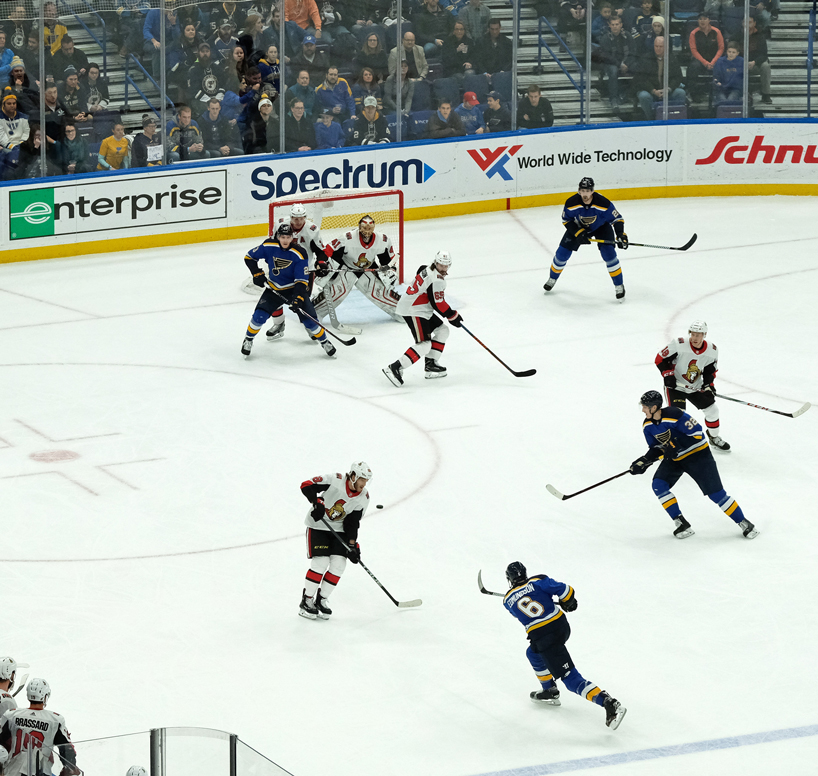 Look at the view from the UMSL section as Blues defensemen Joel Edmundson fires a shot from the point through traffic toward Anderson.
UMSL students were excited to support the Blues, and Sullivan said there were requests from other students for additional tickets that couldn't be met because New Student Programs had sold out its allotment. There are plans to hold the event next year, and they would like to expand it to more students, as well as to faculty, staff and alumni.


Short URL: https://blogs.umsl.edu/news/?p=72206