Scenes from the NextGen Precision Health Institute groundbreaking
Last Friday, University of Missouri–St. Louis Chancellor Tom George and Missouri Institute of Mental Health Director Robert Paul joined leaders from the University of Missouri System for the groundbreaking ceremony for the NextGen Precision Health Institute – a 265,000-square-foot health facility in Columbia, Missouri, that's at the heart of the NextGen Precision Health Initiative. A collaborative effort among the four UM System campuses, the institute will help researchers make breakthroughs to improve the health of people in Missouri and beyond.
"We're very well poised to be part of this initiative and very engaged with it," George said on Friday. He spoke about how work done at the UMSL Center for Nanoscience, the Department of Biology and the MIMH – especially from investigators George Gokul, Paul and Rachel Winograd – fit within the initiative's scope.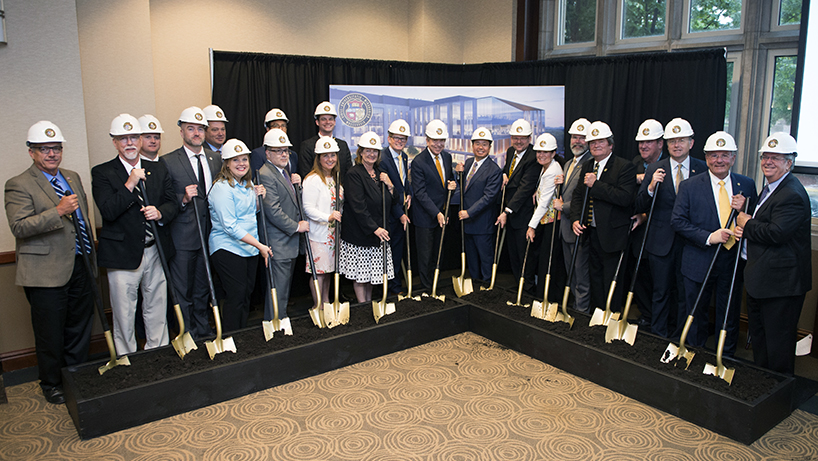 U.S. Sen. Roy Blunt (left of center) joins UM System President Mun Choi (right of center) among others for the ceremonial ground sifting. The event had to be moved indoors because of heavy rain in Columbia.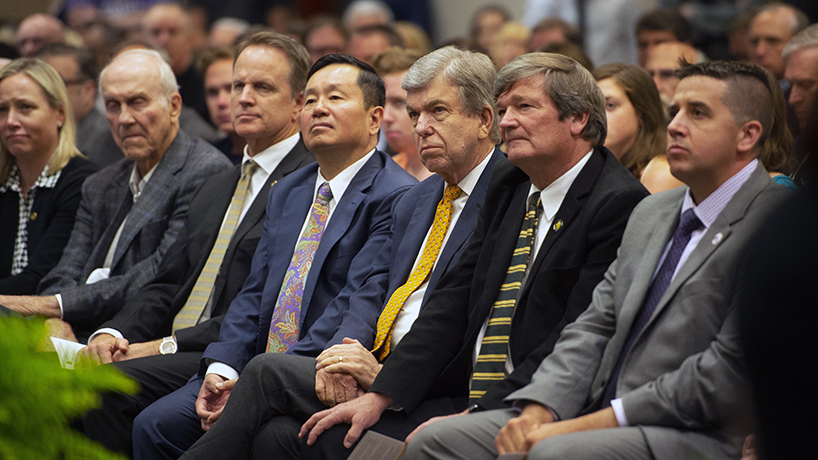 UM Board of Curators Chair Jon Sundvold, third from left, listened next to Choi and Blunt as speakers such as University of Missouri–Columbia Chancellor Alexander Cartwright, University of Missouri–Kansas City Chancellor Mauli Agrawal, Missouri University of Science and Technology Interim Chancellor Christopher Maples and UMSL's George shared their visions for the new facility and initiative.

Short URL: https://blogs.umsl.edu/news/?p=80867