Eye on UMSL: A chain reaction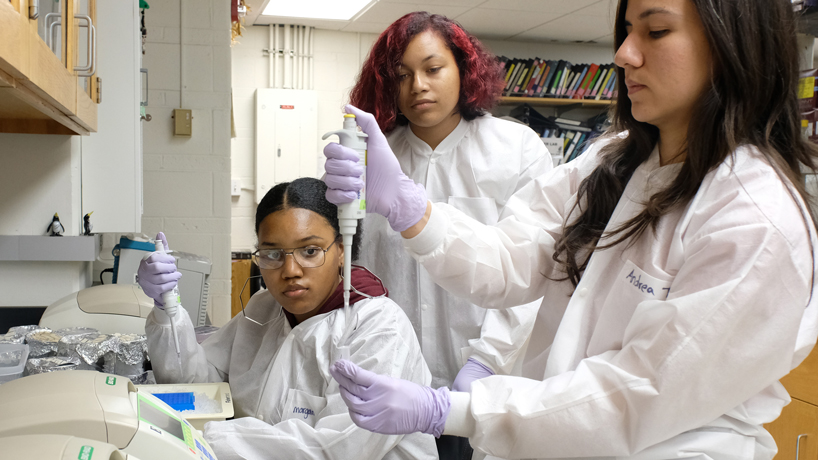 University of Missouri–St. Louis biology PhD student Andrea Trigueros (right) showed Jennings Senior High School students (from left) Morgan Stith and Dakota Warren how to run a polymerase chain reaction to amplify the DNA gathered from birds that contain avian malaria on a recent day in Professor Patricia Parker's laboratory in Stadler Hall.
Both students were taking part in the UMSL/Jennings Summer Internship Program, which concluded its fourth summer on Friday. The program, started by Parker in collaboration with the Jennings administration, aims to offer internship opportunities to promising and academically curious Jennings Senior High School students paid internships in disciplines such as biology, chemistry, physics, psychology, economics, education and music. The internships help students gain experience in a college research atmosphere that might not be available to them otherwise.
This summer marked the second year in the program for Stith, a recent Jennings graduate.
"Compared to last year, I've gained even more skills such as actually extracting the blood myself from the birds and being able to find the species of malaria the birds have by sequencing our samples," Stith said. "In addition to these skills, this internship has enabled me to become more aware of the fact that I really enjoy the lab setting and has given me insight to careers that involve this setting."
This photograph was taken by UMSL photographer August Jennewein and is the latest to be featured in Eye on UMSL.

Short URL: https://blogs.umsl.edu/news/?p=81264