A little bit different, a lot the same: Scenes from Move-In Day 2020
Though Move-In Days at the University of Missouri–St. Louis looked a bit different this year thanks to safety measures enacted because of the coronavirus pandemic, the excitement and joy of the new students lit up South Campus unchanged from previous years.
As students and their families carried their belongings into the Oak Hall residency, Director of Residential Life and Housing Jackie Warren explained that each had been assigned a specific time slot for move-in to reduce the amount of people moving through the halls at any one time. As normal, Oak Hall rooms are single occupancy, but the amount of students in each suite has been limited to two to three.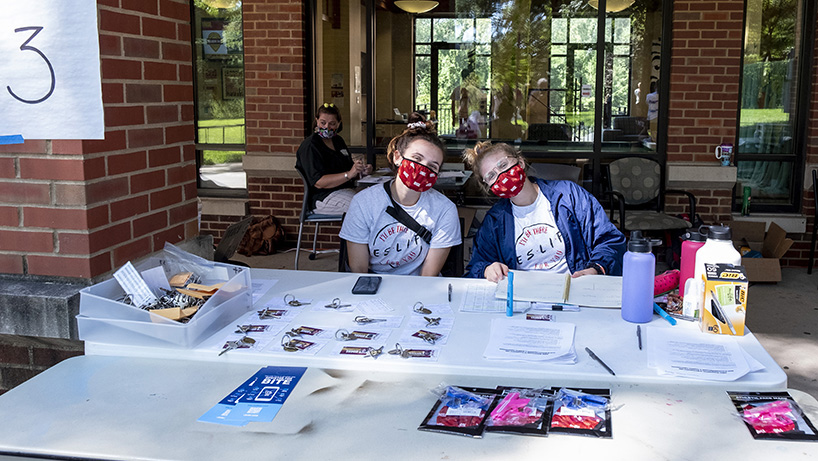 "The big difference is that we've limited our typical community aspects of encouraging students to gather and make sure that that's being done in a socially distance manner," Warren said. "So we're focusing more on group activities and less on floor activities, and really trying to build upon those bonds within the suite but no large gatherings. We also are not allowing any guests or visitors after moving days just to protect our residents and take that extra step there."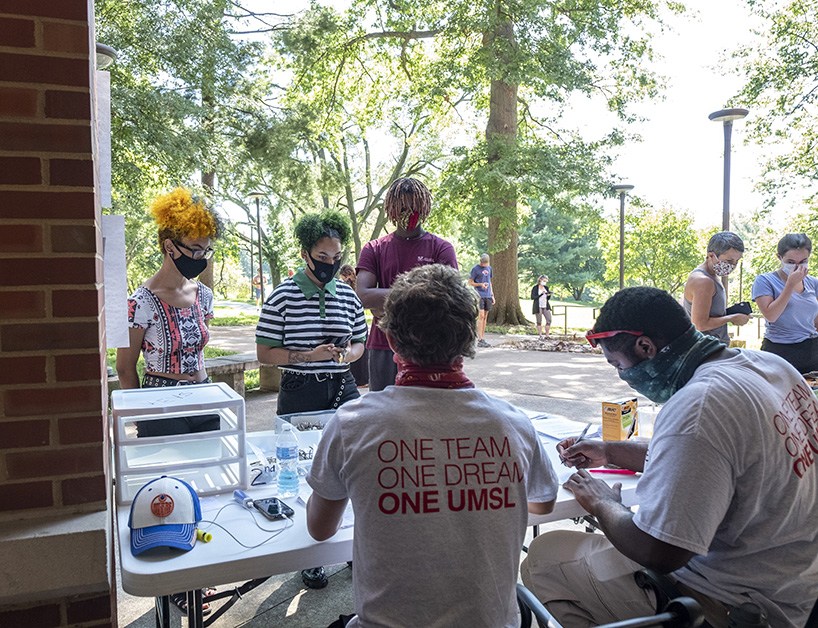 During move-in last week, face masks – especially the snazzy, UMSL-themed ones – were the hot item and required for all participants in and out of the buildings. Stickers marked regular 6-foot intervals on the floors both in front of the check-in desks and in the floors of Oak Hall.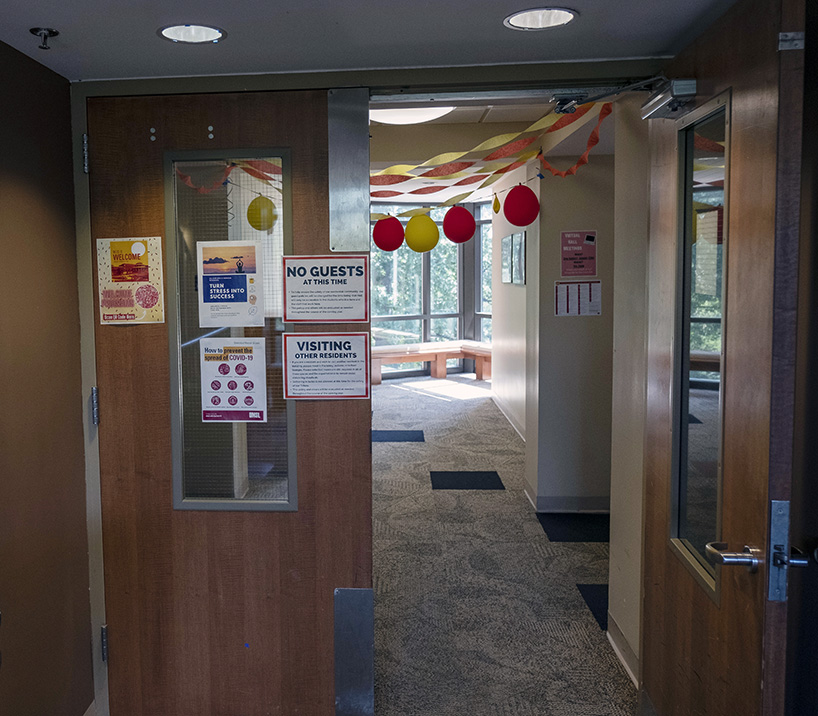 Despite the socially distanced halls, Warren and her team found ways to bring a festive air to move-in such as these streamers in UMSL colors.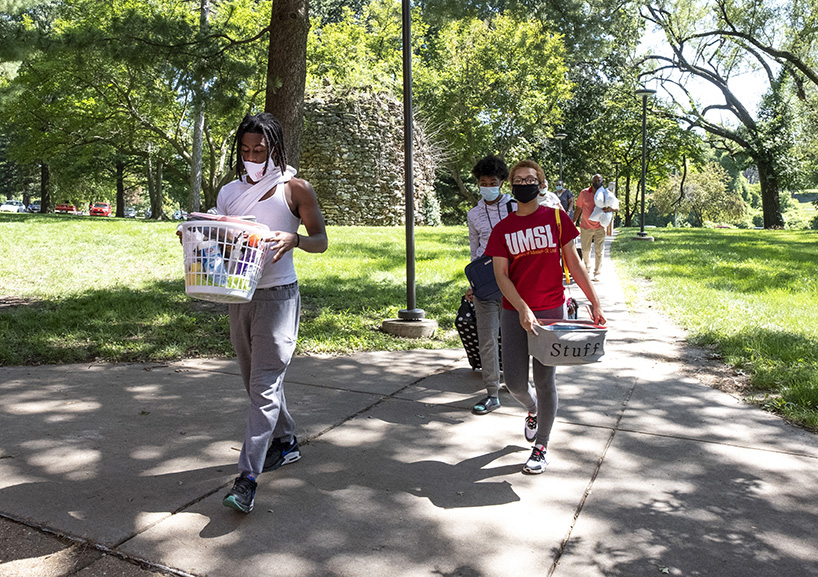 The family of Sidney McBride (far right, UMSL shirt), helped her carry in her stuff. McBride, whose grandparents are legacies, will be playing on the volleyball team and hopes to study psychology.
"Volleyball, you can't just not like it," she said, explaining she's been playing for five years. "I tried it out one day, and I made it and ever since then I've kept playing."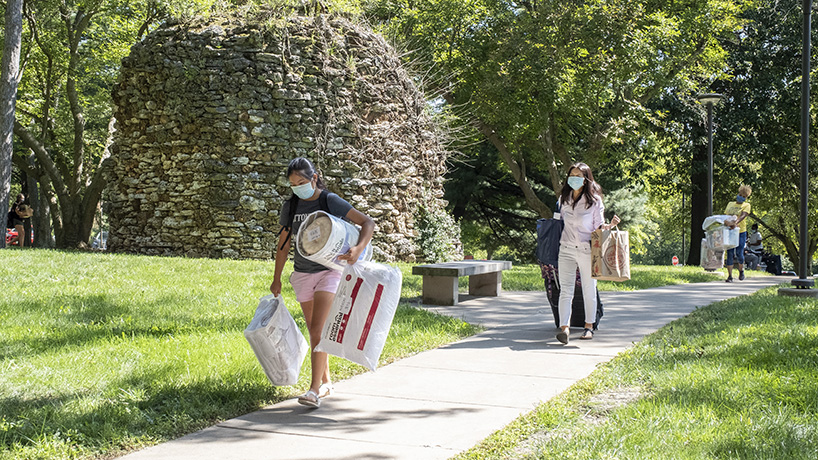 Fellow athlete Momo Kikuchi (left) got into golf by playing with her dad while growing up. She's planning on studying political science and hopes to eventually attend law school.
"I did mock trial in high school," Kikuchi said. "That was fun."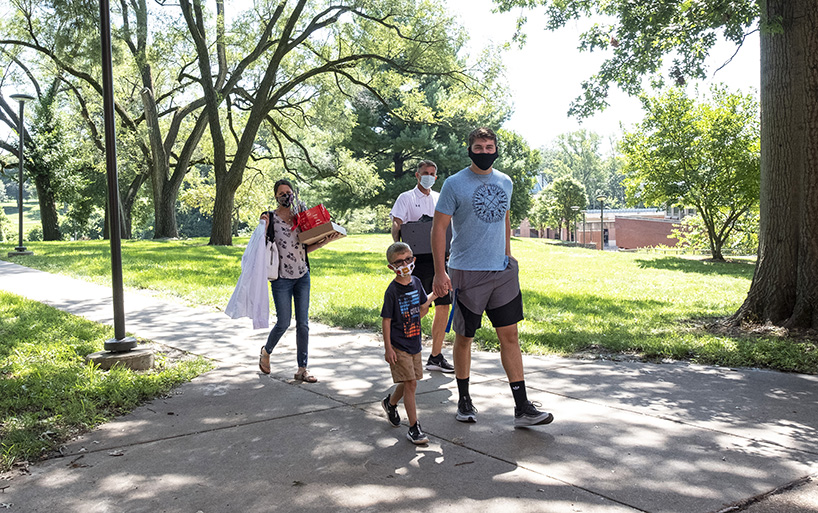 Though multiple generations – and future Tritons – helped the new freshmen get settled, guests – including family – are not allowed in the residence halls after move-in.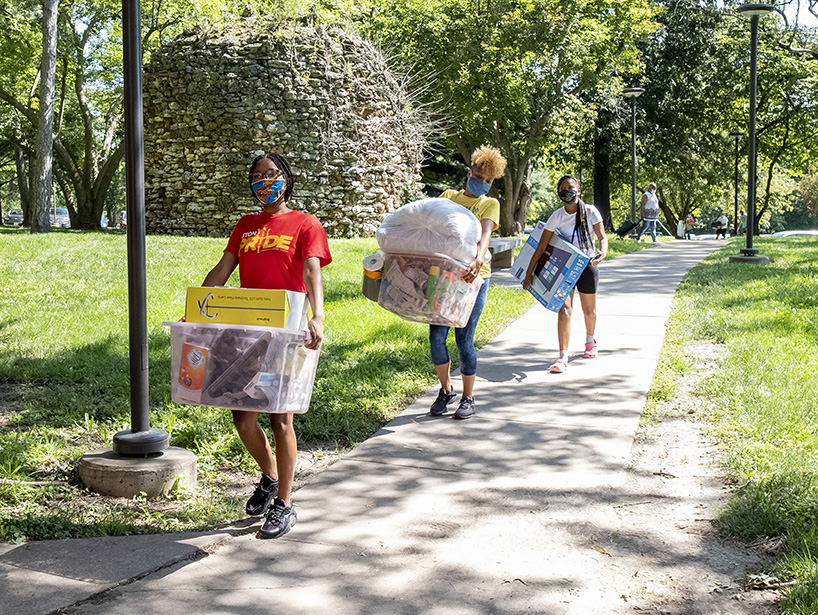 Incoming nursing student Kennedy Carter is one of the Pierre Laclede Honors College Opportunity Scholars who will attend UMSL with a full scholarship. That, and the nursing program, drew her to the school.
"I just like helping people," she said. "You're always there to help and aid."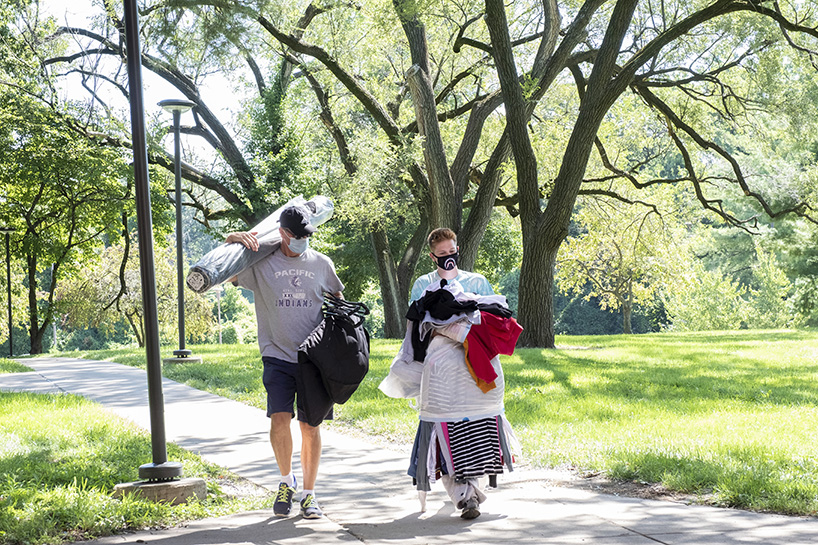 Steve Vogel (left) helped his son, Tucker, get settled in his new dorm on Friday. Hailing from Pacific, Missouri, Vogel choose UMSL for many reasons including its distance from home and the diversity on campus.
"I decided that this is probably the best campus that fits me," he said. "I really couldn't put my finger on one thing. It just felt right."
He's planning to study communication and media because of an interest in music and radio and hopes to get involved with The U, UMSL's campus student radio.
"I've always loved music since I was little," Vogel said. "More recently, I've gotten into making music,  so I think that's what's driving me."

Short URL: https://blogs.umsl.edu/news/?p=86267