Congresswoman Cori Bush to discuss need for action on climate change during April 7 webinar hosted by UMSL, WUSTL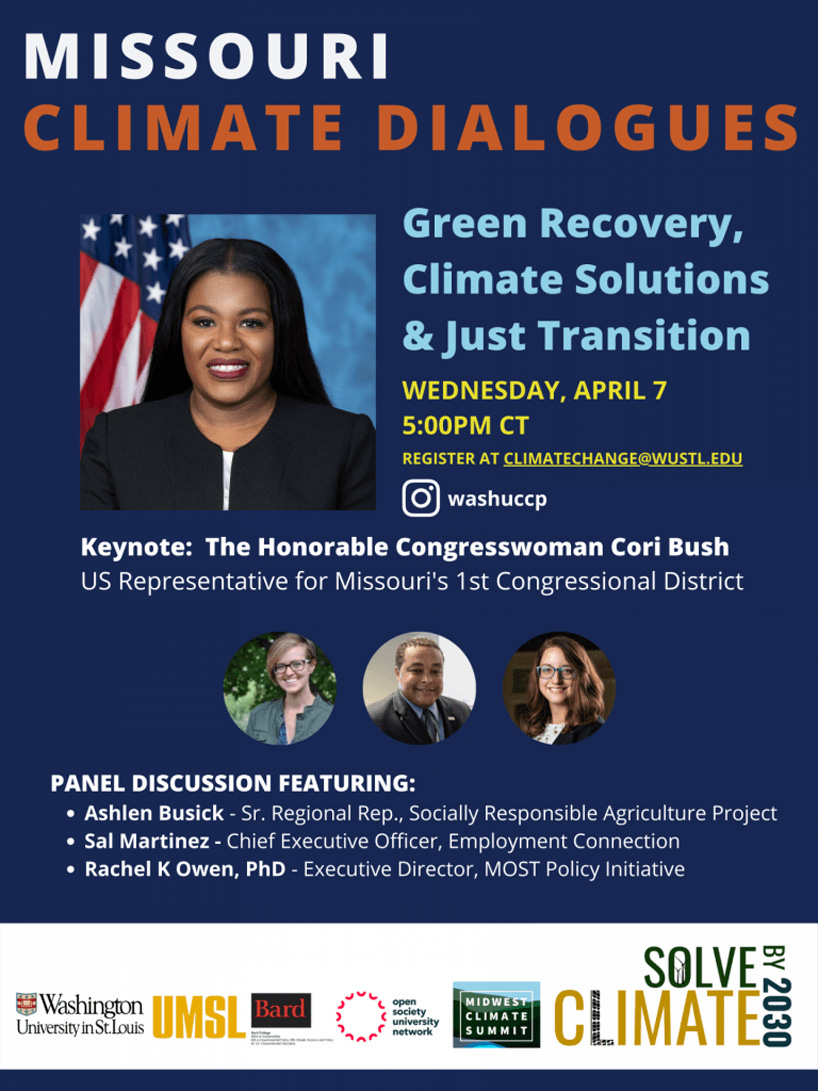 U.S. Representative Cori Bush, D-St. Louis, will deliver the keynote address next Wednesday in a Missouri Climate Dialogues webinar hosted by the University of Missouri–St. Louis and Washington University in St. Louis.
The event, scheduled to begin at 5 p.m. on April 7, is titled "Green Recovery, Climate Solutions and a Just Transition" and will be one of 125 similar events held worldwide in early April as part of a global project called Solve Climate by 2030, led by Bard College in New York.
From Australia to Alabama, Kyrgyzstan to Kentucky, Colombia to Colorado, and Malaysia to Minnesota, students and community members will hear from local climate experts about concrete steps that can make an impact on climate change while creating much-needed jobs and income for all.
In addition to hearing from Bush, attendees of the Missouri event will learn from a panel featuring:
Climate-concerned teachers in universities, colleges or high schools are encouraged to assign the webinar – either live or recorded – to their students for the kick off of Earth Month. Programming such as this webinar helps engage young people in the dialogue about climate change solutions that can be carried out over the next decade to address an existential challenge to everyone's future.
"You don't have to be an expert on climate to talk with your students," said Eban Goodstein, an economist at Bard College who serves as the director of the Solve Climate project. "Every subject contributes to understanding climate solutions. Whether you are teaching art, literature, business, philosophy or any other discipline, you can access easy-to-use teaching guides to make climate a class."
For more information or to register for the event, click here. Take the Pledge to stay informed and #MakeClimateAClass this semester.

Short URL: https://blogs.umsl.edu/news/?p=88694