Fiesta de Quince a Quince opens UMSL Hispanic Heritage Month festivities
Alondra Ramirez took the stage Wednesday to an unusually nice day – just warm enough without being hot, bright and clear – and had the full attention of a crowd of University of Missouri–St. Louis students, staff and faculty.
The psychology student's musical accompaniment, drummer Mike "Baba" Nelson, felt those vibes.
"They got food, and the sun is out, and it's a beautiful day," said Nelson, "OK, so we're going to make some lovely dance."
The two headlined the university's Hispanic Heritage Month kickoff festivities on Wednesday at Fiesta de Quince a Quince – a block party style event with food, music and dance from 11:30 a.m. to 1 p.m. in the parking lot outside of the Recreation and Wellness Center. The event's name, 15 to 15, reflects the heritage month's dates of Sept. 15 to Oct. 15.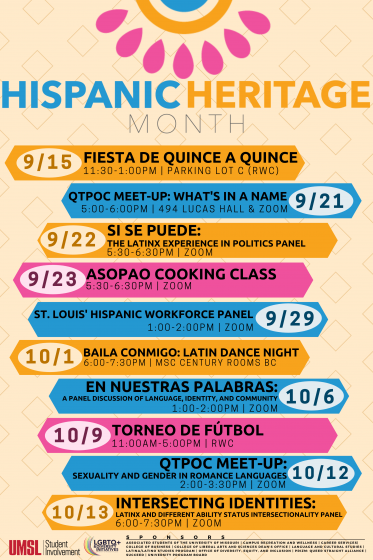 Ariana Smith, LGBTQ+ and Diversity Coordinator in the Office of Student Involvement, led the committee that organized the event as well as the other Hispanic Heritage Month programming.
"Somebody on the committee suggested a block party style, and I loved that idea, so we developed it together," Smith said. "We wanted to start on a certain scale because it is much bigger than what it used to be. But, also, it could become even larger."
Smith and the committee invited Ramirez, who hails from Mexico City, and Nelson to perform traditional dance and music. Venezuelan food such as cachapas (sweet corn pancakes) and arepas (cornmeal patties) were provided by Amaiz-ing Cakes, a Latin food popup.
Iker Vazquez, a supply chain management student, grabbed some food and settled in to watch Ramirez dance.
"I heard about this event, and I've been looking for more events to go to at UMSL," he said. "Also, because I'm Hispanic, and I thought it would be good to go to."
The Hispanic Heritage Month programming runs through Oct. 13 and encompasses events such as a cooking class, a St. Louis Hispanic Workforce panel, a QTPOC – queer trans people of color – meetup, panel discussions and much more.
"My biggest goal, and my kind of compass, if you will, was impact," Smith said. "Our underlying theme between the committee members was intersectionality. There are so many different nuances and individualistic experiences within the umbrella of Hispanic or within the umbrella of Latinx. We really wanted to bring emphasis to that."
Learn more about other Hispanic Heritage Month events or about HISLA, the Hispanic and Latino Student Organization.

Short URL: https://blogs.umsl.edu/news/?p=90720